Procrastination Causes Failure
Procrastination Causes Failure
All successful action can be described by a simple five-part formula:
Purpose.
Plan.
Action.
Feedback.
Change.
The above formula is best drawn like this: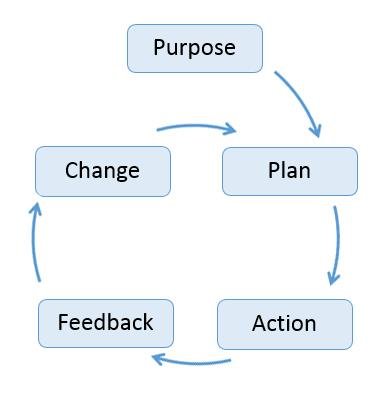 This five-word formula describes all successful action. Therefore, the opposite formula would describe failure. A person will fail if he or she has:
No clear purpose.
No clear plan.
Takes no action.
Pays no attention to their feedback results.
Refuse to change or adapt to the changing circumstances.
Let us look at part three of the failure formula,
Take no action
Failure to act, is a sure way to fail.
Obviously, you must put plans into action.
Many people fail, not because of what they have done, but rather, because they have failed to do. They haven't done anything. They have taken no action to make things any better.
Failure to take any action is a very common way to fail, and it is often a difficult error to see.
The act of taking NO action is a subtle error, because the person has not done anything wrong.
I remember trying to teach my daughter that "doing nothing", is not doing "nothing".
Doing nothing is one of the biggest mistakes you can make. Doing nothing seems so innocuous, so tame, that there does not seem to be anything dangerous in it.
My daughter used to say to me, "Why are you getting so upset with me, dad? I haven't done anything!"
And I would say, "Exactly. You haven't done anything for about five days!".
Doing nothing sounds like nothing. But we could call "doing nothing" other things.
Doing nothing = Procrastination.
Doing nothing = Neglect.
Doing nothing = Laziness.
Let us look at each one.
Doing nothing = Laziness.
Some people are lazy. They don't do want to do anything. They don't want to exert themselves. Laziness is a sure-fire way to fail. Nobody achieved anything great by pure laziness.
Doing nothing = Neglect.
Neglect is not laziness. Neglect means that you did not do what was required. You may have been washing the car, when you should have been preparing for an exam.
Neglect of duty is sometimes a criminal offence.
Neglecting your health is a common mistake.
Neglecting to give proper appreciation and praise to a loved one, is another common mistake.
Neglecting to read educational books is an extremely common mistake. And again, it is invisible. If you don't read an educational book today, nobody will criticise you for it. But those people who continually neglect to educate themselves, fail dismally.
Don't neglect to do what you should do.
Doing nothing = Procrastination.
Procrastination maybe defined as the art of putting it off.
The person who procrastinates says to themselves, "I will do it, but not today. I will do it tomorrow." and they will say the same thing again tomorrow.
Maybe you won't do it today because you are not in the mood.
This is so common a way to avoid doing things that it is almost a national epidemic (plague).
Procrastination is a very common way to fail. It amounts to doing nothing, but it sounds better to keep telling yourself, "I will do it, but not today".
Someday, I will do something.
Procrastination = not doing anything = taking no action = failure formula step three.
Don't just stand there, do something.
Take action on your plans, that will achieve your purpose.
Blogs by Email
Do you want to receive an email whenever we post a new blog? The blogs contain article 5-10 minutes long - ideal for reading during your coffee break!
Further Reading in Leadership and Management
Looking for Leadership and Management Training?
If you're looking to develop your Leadership and Management Skills, you may find this Leadership and Management Training Course beneficial:
Open Training Course Pricing and Availability
Next Open Course Starts in 5 days, Online - Teams, places available