Preparation: Stack the Odds In your Favour
Preparation: Stack the Odds in Your Favour
You know that you need to achieve your goals - your future prosperity depends upon it - but that does not mean that you MUST see a "tangible win" today.
Your goal is not necessarily to see a "tangible win" today, but rather, your goal is to work diligently to create the correct conditions, that make your winning a certainty.
Emotionally, the danger that you have exposed yourself to, is to expect (no, to demand) to see a tangible win every day.
If you don't win today, then you tend to get upset with yourself and say to yourself that you are 'getting no-where'. But it is important to remember that, there are multiple factors that are needed for a win, and you are not in control of all of those factors.
For you to win today, means that many factors have to align themselves in your favour. Those factors include:
Other people must play ball.
Your own preparation must be up to scratch.
Outside circumstances must be just right.
On any particular day, to show a win, all three factors have to be right, all three dice must 'show a 6'.
Even if you do your bit right, that does not mean that you will necessarily win. Because the other two factors must also show a six. That is why it is true that sometimes you do everything right and you still do not win (today).
But if you do all the preparation for winning that you can, then you will maximise your chances of winning and, over the long stretch, winning becomes a mathematical certainty; since a treble six, must and will show itself, eventually. But only if....
You make absolutely sure that your die ALWAYS shows a 6!
If you have not won anything for a while it is easy to become psyched-out by your apparent lack of progress, and stop trying.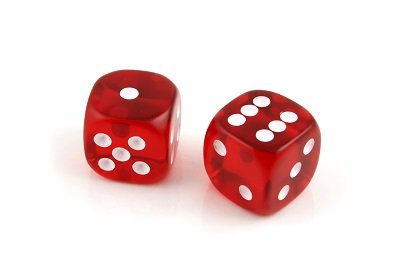 When you stop trying to win, that turns off your 'six'. The subsequent reduction in your performance levels from a six, to only a four. It is enough to ensure that you cannot win this time. Even if the circumstances and other people are both in the perfect state for a win today, unfortunately you have switched off your 'winning six face' and now you have eliminated your chance for a win today.
So it is important that you...
Always keep your winning face, facing up
Worry not, if things don't all go your way, today. Think rather, about continuing to set the conditions and the systems that, when combined, will maximise your chances of winning.
Keep your winning face, facing up.
You can do that by thinking continually about improving your persuasion skills, your technical knowledge, your protocols, your marketing and sales skills, your personal communication and technology.
You need to be continually stacking the odds in your favour, and then let the law of probabilities make use of those improved odds. Then the law of probabilities will, at some unknown date in the near future, deliver unto you your Big Win.
By keeping your 'winning face', facing up, showing a continuous six, you can make your ultimate victory a mathematical certainty.
Quiz: Do You Have the Winner's Edge?
Discover to what degree you have the winner's edge with our Do You Have the Winner's Edge Quiz.
Blogs by Email
Do you want to receive an email whenever we post a new blog? The blogs contain article 5-10 minutes long - ideal for reading during your coffee break!
Further Reading in Personal Effectiveness