Peak Performance Game Plan
Peak Performance GAME Plan
To be achieve the best results, you need a GAME Plan.
The GAME plan you need is this: Goals, Attitude, Method, Energy.
Step 1. Set Goals
Goals are the starting point of all achievement.
If "Success" means, "the achievement of a goal", then it is obvious that the first step to being successful, is to set goals.
If you want to be a big success, then your goals need to be big too. Make your goals:
Ambitious: Think BIG.
Valuable. Your goal should make your life better.
Worthwhile. Your goals should benefit other people too.
In order to achieve your goal, you will probably need to gain the willing cooperation of other people.
Therefore, you need to explain your goal to other people. You should use language that is:
Specific
Defined
Numerical
Step 2. GAME Attitude
A person's attitude is the sum of his or her thoughts, feelings and beliefs about any issue.
People have attitudes towards everything; the monarchy, the police, young people, old people, foreign people, etc.
Attitudes can be either positive or negative.
The important thing to remember is that attitudes affect results, because attitudes affect actions and actions affect results.
Positive attitudes are one of the causes of success.
Negative attitudes are one of the causes of failure.
Attitudes tend to be mirrored in results. Therefore, it is important to develop and keep, a positive Can-Do attitude.
In any job or situation there is always the can-do portion of the job and the no-can-do portion.
Be wary of spending too much time talking about the No-Can-Do portion of the job.
Ensure that your brain tends towards the Can-Do portion of the job, by asking yourself "What can be done and how?"
Step 3. GAME Method
In order to succeed you will need a method capable of achieving the goal.
You should spend a lot of time thinking about what might be the best method.
Method implies:
Preparation: Success is based on making ready before the event.
Analytical thinking: is the act of mentally breaking things down into their component parts. It is usually necessary to understand the component parts of the whole.
System: Everything has an optimum sequence. We must do the right things in the right order.
Step 4. GAME Energy
In order to be successful, you will need energy, both mental and physical.
Mental Energy
Your success is dependent on your mental energy, which implies:
Logic
Creative imagination
Memory
Physical energy
Your mind is dependent on your body. Physical power implies:
Vitality
Endurance
Strength
You need to pay attention to your health and build your mental and physical powers.
Put the GAME plan into action.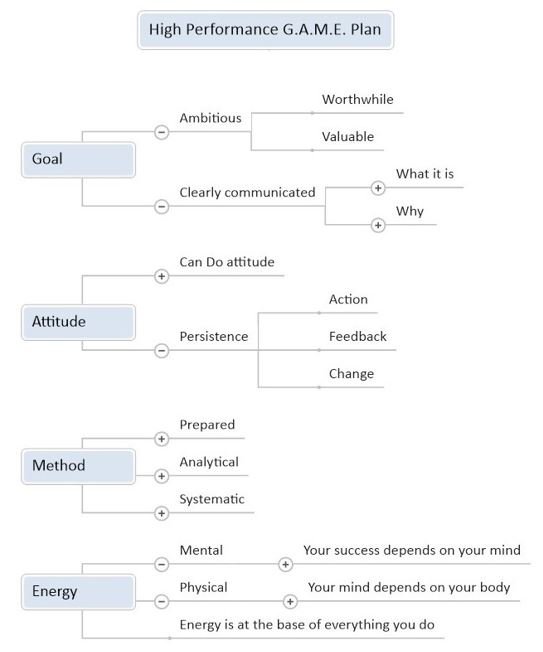 Blogs by Email
Do you want to receive an email whenever we post a new blog? The blogs contain article 5-10 minutes long - ideal for reading during your coffee break!
Further Reading in Personal Effectiveness