Managing Stress
Time Management as Stress Management
Many people are stressed; primarily for two related reasons.
They are facing a sustained, heavy demand on their time, energy and effort.
And that sustained demand then triggers a negative emotional response in their mind and body.
Stress is therefore composed of two major factors.
The objective facts: a sustained high demand.
The subjective feelings: the negative emotional responses to the sustained high demand.
Stress is often the name we give to both sets combined.
Stress may be seen as the negative emotional response, to the sustained high-pressure work load, that you are experiencing.
We believe that a good time management and personal effectiveness course can act as a stress management course, because it tackles both causes.
1. The first part of the course covers time management. Management of work load and time pressures. Prioritise, organise, delegate and thus reduce the perceived load.
2. The second part of the course covers management of mind and body, in order to create and sustain the OPTIMUM emotional responses, that are appropriate to the circumstances that face you.
The two elements of the course mean you tackle stress on two levels:
On the level of managing the objective facts, the external stressors (imposed demands).
And you tackle stress on the emotional level of subjective feelings: the internal reactions to the imposed demands.
Time Management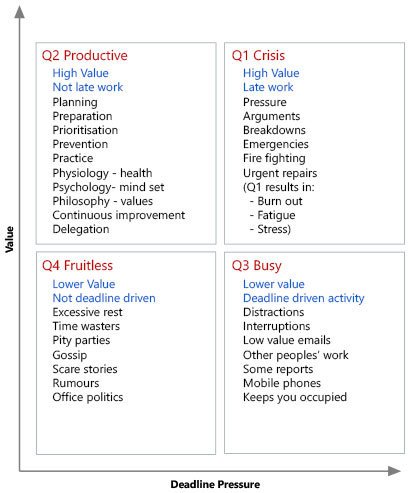 The first part of the training covers:
Each person is a limited resource, facing an unlimited demand.
As a limited resource, facing an unlimited demand, it is essential that you manage the work load.
That means prioritising tasks, according to the value of the task and the deadline pressure of the task.
Do tasks in the correct order.
Don't attempt to do everything at the same time. (DON'T multi-task).
"Multi-tasking" is the same thing as "Failing to concentrate on the task at hand".
Instead of multi-tasking, line up your tasks into the proper order and then, knock them off one at a time, by giving each one your concentrated mind power.
Delegate as much lower value work as is possible, for the right reasons only, using SMART targets.
Strive to add the most value, in the minimum time and effort.
Interrupt the interrupter, by asking them for their essential message.
Don't waste time on things that don't matter.
Don't waste time worrying over things that you have no power to change.
Focus always on the "CAN-DO" portion of the job.
Management of Mind and Body
The second part of the training is as follows:
Each person responds to the thoughts that they have in their minds.
Positive thoughts, create positive emotions.
Thoughts of a painful future, produce feelings of worry, fear, or anxiousness.
Thoughts of a painful past, produce anger, upset and bad feelings.
Thoughts of goal focus and logical action, produce optimism, energy, confidence and motivation.
It is important to monitor and control the content of your mind and conversation, and direct them away from thoughts about a painful future, or bad past, and redirect them towards, goals, plans and progressive actions.
The mind and body are one integrated system; and therefore it is important to have good health habits.
Good health habits include, nutrition, sleep and exercise.
Bad health habits include, alcohol, junk food and drugs.
People who are stressed often (erroneously) turn to more alcohol, junk foods, and drugs as a relief.
The intelligent response to stress is to rely on better quality sleep, nutrition, and exercise.
Mind and body must be properly nurtured and your health held in high regard.
The common forms of neglect or misuse of the mind and body, are all MALADAPTIVE stress responses. You should recognise them as such and avoid doing them.
We want to encourage a more progressively healthy and ADAPTIVE response to stress.
To learn how to relieve your stress, book yourself on this Time Management course today.
Blogs by Email
Do you want to receive an email whenever we post a new blog? The blogs contain article 5-10 minutes long - ideal for reading during your coffee break!
Further Reading in Time Management
Looking for Time Management Training?
If you're looking to develop your Time Management Skills, you may find this Time Management Training Course beneficial:
Open Training Course Pricing and Availability
Next Open Course Starts in 13 days, Manchester City, places available