How to Set Goals
How to Set Goals
You cannot achieve a goal, you have never set. Therefore, it is important to think about your goals and commit them to paper or smart phone. The following formula can be used for both work-related and personal goals.
Let us start by writing a work-related goal, answering the following questions in as much detail as possible.
1. In relation to your work life, what goal do you want to achieve? Write a general statement of positive intent.
2. Thinking about the statement above, can you define the statement numerically? Are there any quantities, amounts, times, or percentages that would be applicable to quantify your original statement of the goal?
3. Regarding the goal statement in point 1, please write a more elaborate written description of what your goal is. Be specific.
4. Measurement. What are the key factors of the goal that you could track, in order to note whether you were making progress, or not making progress or going backwards?
5. Achievable. In order to achieve the goal, what skills, knowledge, information or other personal attributes, will you need to develop? Write a list of these skills or personal attributes that you need to develop to achieve the goal.
6. Realistic. What external resources will you need to assemble to achieve your goal? Resources are things such as money, equipment, technology, permissions and help from other people.
7. Time deadline. What is the timeline, associated with this goal? What is the deadline? By when do you want to have achieved this goal.
8. Timeline reality check. Is this time line reasonable? Is it do-able? You must give yourself sufficient time to achieve the goal. Don't be over optimistic. But don't be too generous with your timeline either. Make your timeline "possible but challenging".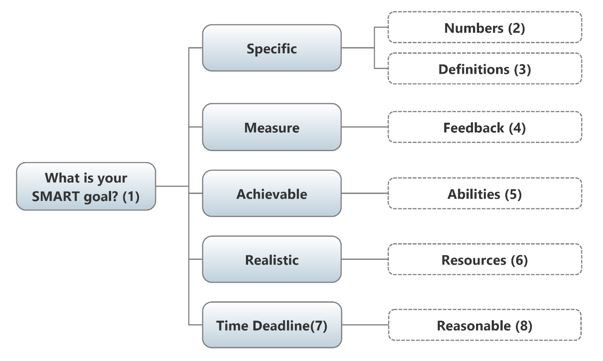 Now you have all the information assembled, you can write your plan of action. Write down what you have to do, with whom, by when and how.
Congratulations. You now have a specific goal and a detailed written plan.
You are welcome to use our FREE Goal Setting questionnaire to help you commit your goals to paper.
Blogs by Email
Do you want to receive an email whenever we post a new blog? The blogs contain article 5-10 minutes long - ideal for reading during your coffee break!
Further Reading in Goal Setting
Looking for Goal Setting, Communication and Conflict Training?
If you're looking to develop your Goal Setting Skills, you may find this Goal Setting, Communication and Conflict Training Course beneficial:
Open Training Course Pricing and Availability
Next Open Course Running tomorrow in London - Central, places available