How to Motivate Myself and Others
How to Motivate Myself and Others
Leadership training is always partly to do with motivation.
All leaders need to develop the skill of motivation.
Motivation is a specific emotion. All emotions are a product of thought, because whatever you think about causes an emotion.
Emotions are NOT CAUSED by external facts. It is internal thoughts that is the cause of an emotion. Facts don't cause feelings.
The true cause of feelings are your thoughts:
If your thoughts are positive, then your emotions will be positive.
If your thoughts are negative, then your emotions will be negative.
You feel whatever you think about.
If you want other people to feel positive, then you need to influence their mind to think about something positive.
And as a leader, you need to know how you can make the other person think about things that will make them feel positive.
To make the other person think about things that will make them feel positive, ask them questions that will focus their mind onto the following four things:
Their goals. What they want for themselves and their family for the future.
Their plans on how to achieve their goals.
The action that they can do next.
How great it will be when they achieve their goal.
Learn the above list of question types. Memorise them well and then use this list as a guide to your conversations with others.
What do you want to achieve in the next (few months)?
What do you need to do to achieve your goal(s)?
What can you do today to take you one step closer to your goals?
How will you feel when you achieve your goal?
Keep repeating these questions; but use different words and phrases. These thoughts will trigger emotions of:
Motivation.
Desire.
Excitement.
Ambition.
Enthusiasm.
Confidence.
Energy.
Faith and hope.
At the same time, do not ask people questions about the following:
Don't ask them about all the bad things could happen in the future.
Don't ask them about the bad things that have already happened in the past.
Don't ask them about any negative gossip or office politics.
Too many conversations are about these three things.
The first induces fear or worry.
The second induces anger or upset.
The third induces nosiness and negativity.
Keep your conversation under control and focus the content of your conversations onto:
Goals for the future.
Plans on how to achieve the goals.
Actions that can be taken today.
How it will feel when we win.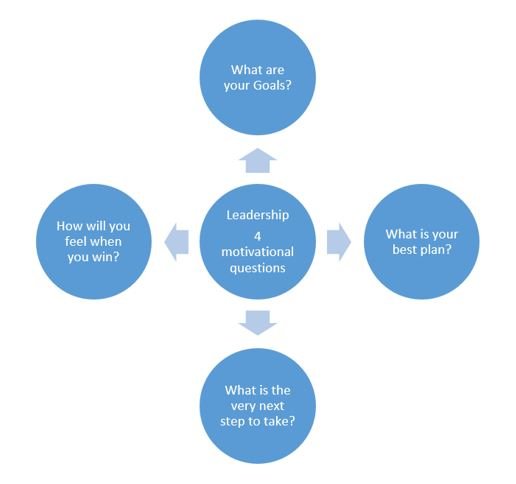 Try our Positive Influence Quiz to discover if you have a positive influence on others.
Blogs by Email
Do you want to receive an email whenever we post a new blog? The blogs contain article 5-10 minutes long - ideal for reading during your coffee break!
Further Reading in Motivation
Looking for Leadership and Management Training?
If you're looking to develop your Motivation Skills, you may find this Leadership and Management Training Course beneficial:
Open Training Course Pricing and Availability
Next Open Course Starts in 8 days, Manchester City, places available