Communication Skills: Clear, Rational and Positive
Communication Skills: Clear, Rational and Positive
Your communication should always be:
1. Clear. People should always be able to understand what you mean.
2. Rational. Back your message with as many "reasons to believe" that what you say, is true and good.
3. Positive. Ensure that your message has a positive intent.
Let us look at each communication quality.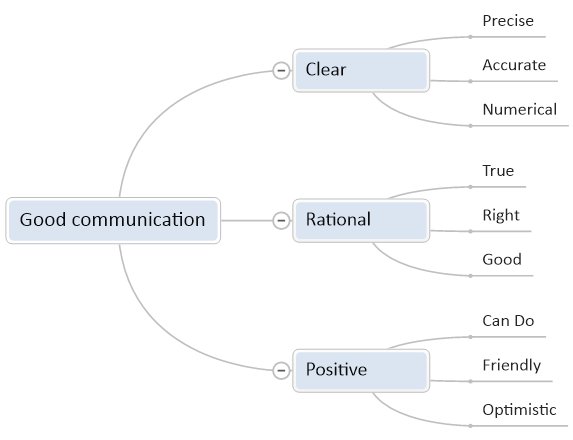 1. Make your communication clear, not vague.
Make your communication as clear, precise and accurate as possible.
Avoid ambiguity, vagueness or over-generalised language.
Vague, ambiguous words and phrases will cause miscommunication, confusion and error.
An example of vague communication would be: Please, send me those documents ASAP.
Can you see that ASAP denotes no definite meaning? ASAP is an example of vagueness.
On the other hand, clear, accurate and precise language will cause understanding and confidence to grow, in the mind of your listener.
Strive to be clear in your communication.
2. Make your communication rational.
Give good reasons to believe that what you say is true, right and good.
True means: Your message corresponds to the facts.
Right means: Your message corresponds to proper ethics.
Good means:The implementation of your ideas will result in progress towards your goals.
To make your communication more rational, use LOGIC.
Try to use a logical, scientific method of communicating your message. Provide a logical rational to support your ideas.
If you fail to provide a rational for your message, then nobody will have a reason to believe it.
If you do provide a logic to your message, them people will be more inclined to believe it.
3. Positive intent.
Try to imbue your communication with a sense of positivity.
This means be optimistic and friendly, with a can-do attitude.
Optimistic means: You offer a vision of a better future.
Can-do attitude means: you focus on what can be done and how: Not on what cannot be done and why.
Friendly means: assuming a likeable tone, with signs of warmth, good humour and respect.
Blogs by Email
Do you want to receive an email whenever we post a new blog? The blogs contain article 5-10 minutes long - ideal for reading during your coffee break!
Further Reading in Communication - Clear Communication
Looking for Communication Skills Training?
If you're looking to develop your Clear Communication Skills, you may find this Communication Skills Training Course beneficial:
Open Training Course Pricing and Availability
Next Open Course Starts in 8 days, Manchester City, places available