Team Building Training Course - One Day
Learn practical tools that you can use in real-life situations.
Create a happy, productive and friendly team atmosphere
Agree a statement of our Definite Purpose
Develop better communication between all members of the team
Build practical plans of action
Harmonise the different personalities in the team
Cultivate a strong sense of continuous improvement
Develop a feeling of mutual cooperation
Learn in a friendly and relaxed atmosphere with people who are facing similar situations as you.
Really beneficial quick and simple methods to keep conflict-based conversations on tack. Helpful when trying to keep things factual and not getting emotional. Easy to remember.
Customer Reviews
Team Building Training - One Day Course Overview
Day One - Morning
What makes a successful team?
The six secrets of successful teams
Key questions for your team
Clarity of purpose
The eight-part SMART
Planning and prioritisation
Day One - Afternoon
Creating a positive team atmosphere
Using the success formula in your team
Avoiding the failure formula
How to put these principles into action
Summary / action planning
Team Building Training - Day One - AM
Introductions
The definition of a successful team:
"A successful team is a group of people who work well together to achieve a shared purpose in the most efficient manner possible".
The six secrets of successful teams
All teams have the following six skill sets:
A shared and definite purpose
Clear communication
Excellent planning and preparation
Complementary personalities
Mutual cooperation
A happy, optimistic and friendly work atmosphere
Six Key Questions for your team
Scoring out of 10...
To what degree would you say everyone fully understands and shares "the vision"?
How would rate the quality of the communication, within the team?
How would you rate the quality of planning and prioritisation within the team?
How would you describe the atmosphere in the team?
Based on your answers above what do you think we need to focus on, during this course?
Please finish this sentence, "During this course, I would like to find out how we could better..."
First secret of successful teams: Clarity of purpose.
All teams exist in order to achieve a shared purpose or a goal.
So we need to become "Goal focused individuals".
What are the benefits of becoming more goal focused?
Second secret of successful teams: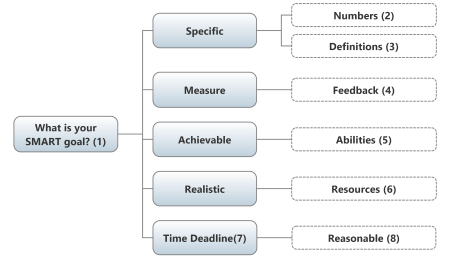 Communication by means of the Eight-part SMART model. Smart like you've never seen it before.
Most people know about SMART targets but don't use it because five-part SMART is too abstract. Specific, measured, achievable, realistic, and timed.
We improve the five-part smart model to make it an Eight Part SMART.
Eight Part SMART questions.
In general terms, what is the goal to be achieved?
How would you specify that goal numerically?
How would you specify and define all your key terms?
What feedback measures would you need to keep track of?
What additional abilities; skills, knowledge and information would you need to gain?
What resources; money, machines, technology and people do you need?
What is the time deadline?
And is that deadline reasonable or is it over optimistic?
Third secret of successful teams: Time planning and prioritisation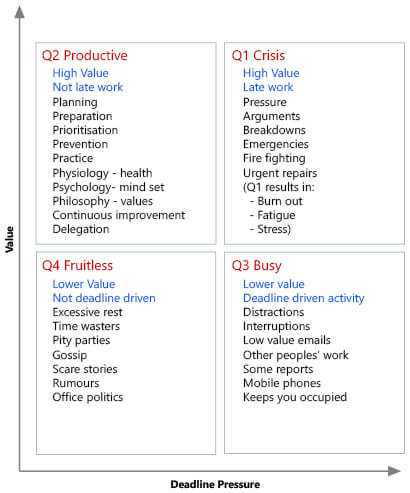 How do we organise our tasks and time?
Time management starts by asking you to answer this question:
What is the most VALUABLE use of your time, right now?
Use the two principles of 'deadline pressure' and 'value' as key indicators.
These two key indicators allow us to build this time management matrix.
Many people spend their time working in Q1 crisis and Q3 busy-work, chasing deadlines. They fail to do enough Q2 planning and prep; thus they sow the seeds for a fresh crop of Q1 crises.
This process becomes a self-reinforcing, negative cycle.
The Cardinal principles of time management are "value" and "deadline pressure"
Q1 Crisis zone
Q2 Productive
Q3 Busy
Q4 Fruitless zone
Distinguish between "Busy" and "Productive" work
Handling the three time wasters
Other people's interruptions
Your own bad habits
Poor systems
Time tips questionnaire and action plans.
Team Building Training - Day One - PM
Successful teams have different but complimentary personalities
How to create a positive team atmosphere?
How the team attitude affects the bottom-line results
The effects of a positive mental attitude on the results
The effects of a negative mental attitude on the results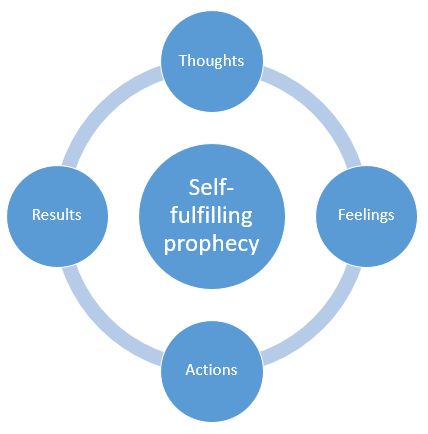 Five basic forms of team atmosphere:
Two are positive: "Present day" and the "future will be good" conversations.
Three are not. Anger over past; Worry about the future, reminiscing over a lost Golden Age.
You do what you do and you feel what you feel, primarily because of the thoughts that you allow to dominate your mind and conversations
You react automatically, instantly and unerringly to the thoughts that occupy your conversations.
If you have bad thoughts, you feel bad.
If you have good thoughts, you feel good.
If you have mixed thoughts, you will have mixed feelings.
A positive mental attitude relies on your ability to control and direct your mind, your thoughts and conversation:
Consistently.
For extended periods.
Irrespective of what others are doing.
Irrespective of what others are saying to you.
The success formula describes the actions of all successful teams:
All progressive teams follow the success formula: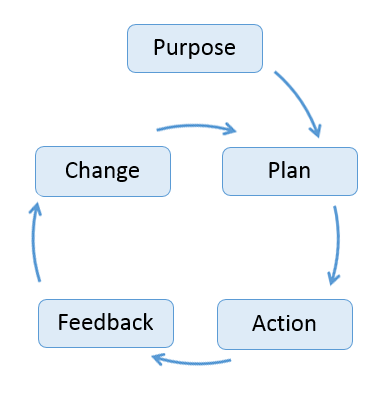 What are the Success Formula Questions?
Here they are:
What are your SMART goals for this coming week, (month, year….)?
What are your "detailed, written plans of action" that describe how you intend to achieve your goals? Please give me the notes….
In relation to achieving your SMART goals and working on your plans, what are your top priority actions? Which is the very first action to take?
What has been going well for you, lately? Please, give me the notes……
What has not been going so well for you, lately? Please tell me……
In respect of what has not been going so well, please tell me, what do you think we need to alter, adapt or change, in order to improve things and make the future better? Please, give me your notes……
Going back to what is currently going well, what do you think we could do to make things even better than they are now? Do you have any suggestions?
The failure formula
All team failure is based on the neglect of the above seven points
The importance of praise appreciation and good humour
We can devise some good "Principles of praise"
Separate praise from reprimands (don't praise, then reprimand)
Separate praise from delegation (Don't praise as a prelude to dumping a job on someone).
Give specific praise, not general praise.
Make your praise sincere. Don't fake it.
Become the type of person whose praise is likely to be valued.
Practical exercises for the delegates to learn skills
How to put these principles into action
Summary / action planning / close
Course content was fantastic! So much valuable and usable information. Best course I've been on in five years. Will revisit monthly until it sticks and is applied. Trainer's presentation: Delivered with energy and belief. Was inspiring. Trained in a way to aid remembering key point eg models. Liked the idea of summary page of key points at the back of book.
Customer Reviews
In-House Training Course Pricing and Proposal
This course is available from just £1,950 +VAT per day as a bespoke in-house group training course in the UK and worldwide.
It has been designed to provide a similar experience to our open courses, however we can tailor the content to fit your specific needs. In-House Group training costs from just £1,950 +VAT per day (international training price varies). Plus, hotel accommodation for trainer if necessary. (Premier Inn type: not the Hilton!)
This price includes:
Quality training delivered by an experienced trainer
Full days training
Full colour course handbook
Preparation work
Travel costs and time
Written action plan to take away
Access to our post course portal
Access to our on-line leadership and management decision matrix templates and tools
Plus three months FREE telephone coaching to answer any on-going questions
Contact Us Today
Please call us on +44 (0)20 3856 3037 to discuss your requirements for the in-house training course.
If you want to know more about any other Management Training Courses, or their suitability for you or a colleague, call us on +44 (0)20 3856 3037.
Express an Interest
X
If you feel you would like to attend but cannot yet commit to a secured booking, you can express your interest here.
Email your Manager
X
If you are reading this page with the intention of attending the course, then you may need to 'put forward a case' to a manager who makes the final decision.
So, you may find it beneficial to give your manager this document, which will give all the information needed to make the right decision.
To do this, please enter the manager's email address below and.. take me to your leader!



* Just so you know, we'll add your details to our records.
This was a excellent course and very informative. Will use problem/cause/solution map and decision matrix, as well as taking home with me a more positive mental attitude towards any task. The trainer's presentation was excellent; really friendly and approachable. The course content was covered really well.
Customer Reviews
Team Building Training Course Summary
If your people work together well, as a team, then almost any goal you set is achievable.
So, the question we need to find the answer to is this:
How can we get the best performance from your team?
In this team building course you will learn the factors that go to make-up effective teams.
You will practice the attitudes and attributes that make team working more productive.
The seven most important factors which make teams more effective are:
A shared vision
Clear lines of communication
A balanced skill set
Shared planning
Correct distribution of work
Positive mental attitude
Different personality types agreeing to work in a cooperative manner
After attending this team building course, your team will share "a shared understanding" about what is needed to be a happier and more effective team.
The benefits of this unique team building course:
Your team will be ready to rally around a shared purpose
Your team will communicate more effectively
You will get the best possible results by releasing the full potential of the team
You will avoid all the perils and costs of a poor team spirit
You will create a happy, successful team that will be better able to achieve its goals