Principles of Effective Performance Management
Performance Management
Performance management is the art of getting the best performance from other people.
In order to be a good performance manager, you need to know the proper principles of performance management and you need to have the communication skills that will allow you to apply the principles to others.
What are the principles of effective performance management?
There are five major principles of effective performance that combined to form "The success cycle".
The success cycle is made up of five key concepts: Purpose, plan, action, feedback and change.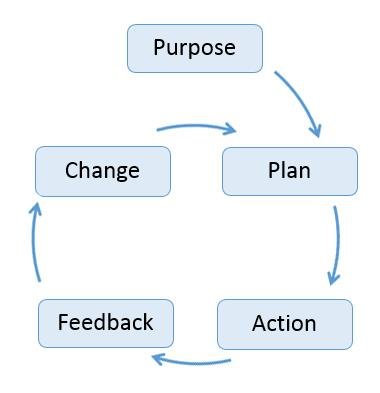 The purpose of the performance management process is to apply the success formula to the other person and to yourself.
Since a performance management process is often about making "mid-course corrections", you can often start your performance management process, not at the purpose stage, but rather, at the feedback stage.
The first part of the performance management process is to ask for and give some feedback.
Feedback is information that relates how the recent performances have affected the progress towards a given goal. The feedback question amounts to this:
"To what degree have your recent performances taken you closer to your goal, or not?"
Feedback comes in two forms: Positive feedback and negative.
You give feedback on the performance of the other person. Your feedback can come in two forms: Positive feedback and negative.
Positive feedback is when you give praise and appreciation for the person's strengths and achievements.
Negative feedback is when you point out any of the other person's relative weaknesses, or errors or omissions.
Then you might ask if the other person has any feedback that they want to give to you. This is an opportunity for the other person to express their own thoughts. Again this feedback may be positive or negative.
Part two of the performance management process is to agree some necessary changes.
Now you have finished discussing the feedback, you can now ask this question:
"What changes do you think you need to make in your current performance that will allow you to improve your performance and make faster progress towards your goals?"
You use your earlier feedback conversation to inform your "adaptive change" conversation.
Again there are two parts to this:
Build on the Positive feedback: you want to build on the other person's strengths and make full use of them.
Eliminate the Negative: you want the other person to acknowledge and eliminate any relative weaknesses or errors or omissions.
Part three of the performance management process: SMART Goal setting.
Now you have agreed on the need for changes, you can turn the conversation towards specific goals.
You need to agree goals. These goals are SMART:
Specific.
Measurable.
Achievable.
Realistic.
Time limited.
The SMART goals conversation leads seamlessly to the "planning phase" of your conversation:
Part four of the performance management process is "planning for the future":
The SMART model suggests 7 SMART questions that you need to ask. Please memorise the following list of seven questions that are all derived from the SMART method.
What is your personal performance goal?
How would you define hat goal numerically?
How would you define your key terms?
What feedback measures would you need to track?
What additional abilities; skills, knowledge and information would you need to gain?
What resources; money, machines, technology and people do you need?
What is the time deadline? And is that deadline reasonable or not?
Part five of the performance management process is "a call to action"
You and the other person now need to commit to taking action on the plan you have developed.
You need to do it within an agreed time frame and finally you need to agree a date when you will meet to give each other feedback on the situation, as it develops.
When you return, in two days, or two weeks, or two months, then you will start again with the first part of the performance management process, which is to ask for and give Feedback.
And off you go, once more, around the success cycle.
Training to help you with performance management
In order to apply these ideas you may need some training.
You may need training in order to
Give positive feedback
Give negative feedback
Set and communicate proper goals.
Build practical plans of action.
Inspire yourself to be in a positive frame of mind so that you can
Inspire others to be in a positive frame of mind.
If you want to develop these six skills and feel you want to training in these areas of skill, please attend our Leadership and Management training course.
Blogs by Email
Do you want to receive an email whenever we post a new blog? The blogs contain article 5-10 minutes long - ideal for reading during your coffee break!
Further Reading in Conflict Management and Handling Difficult People