Management Training
Management Training
Management training is important because your managers organise the daily workings of the team. They affect the people they manage. Bad managers can negatively affect the team. Good managers can make a team super-effective.
Management training will help your managers to get the best performance from themselves and the rest of the team.
Management training can take the guess-work out of management, and replace it with knowledge.
Your managers all have unique personalities. They are all different. But the ROLE of a manager has a specific identity; and all managers need to know what GOOD management is, and how to do it.
Management training will teach your managers what good management is, and exactly how to do it. (likewise, management training will also highlight what BAD management is, and how to avoid it.)
What are the major skills sets of the GOOD manager.
There are many skills associated with management, but they can all be subsumed under six main headings, as follows.
1. The creation and communication of clear goals. The team exists to achieve its goals, so we start with the quality of Goal focus.
2. The ability to communicate in a clear, persuasive and motivating manner.
3. The ability to plan, prioritise and delegate tasks, so the team is working at maximum efficiency.
4. The ability to handle conflict situations, poor performance or upsets, within the team, quickly and without fuss.
5. The ability to develop a high degree of self-motivation, confidence, optimism and energy, especially during tough times.
6. The ability to inspire the same sense of motivation, confidence, optimism and energy, into the whole team, and create a productive work atmosphere.
These six sets, are composed of subsets, shown in the diagram below. Managers need to know the subset skills and how to apply them.
Our Management training programme will take your managers through these skills and teach them how to apply each set in the proper way.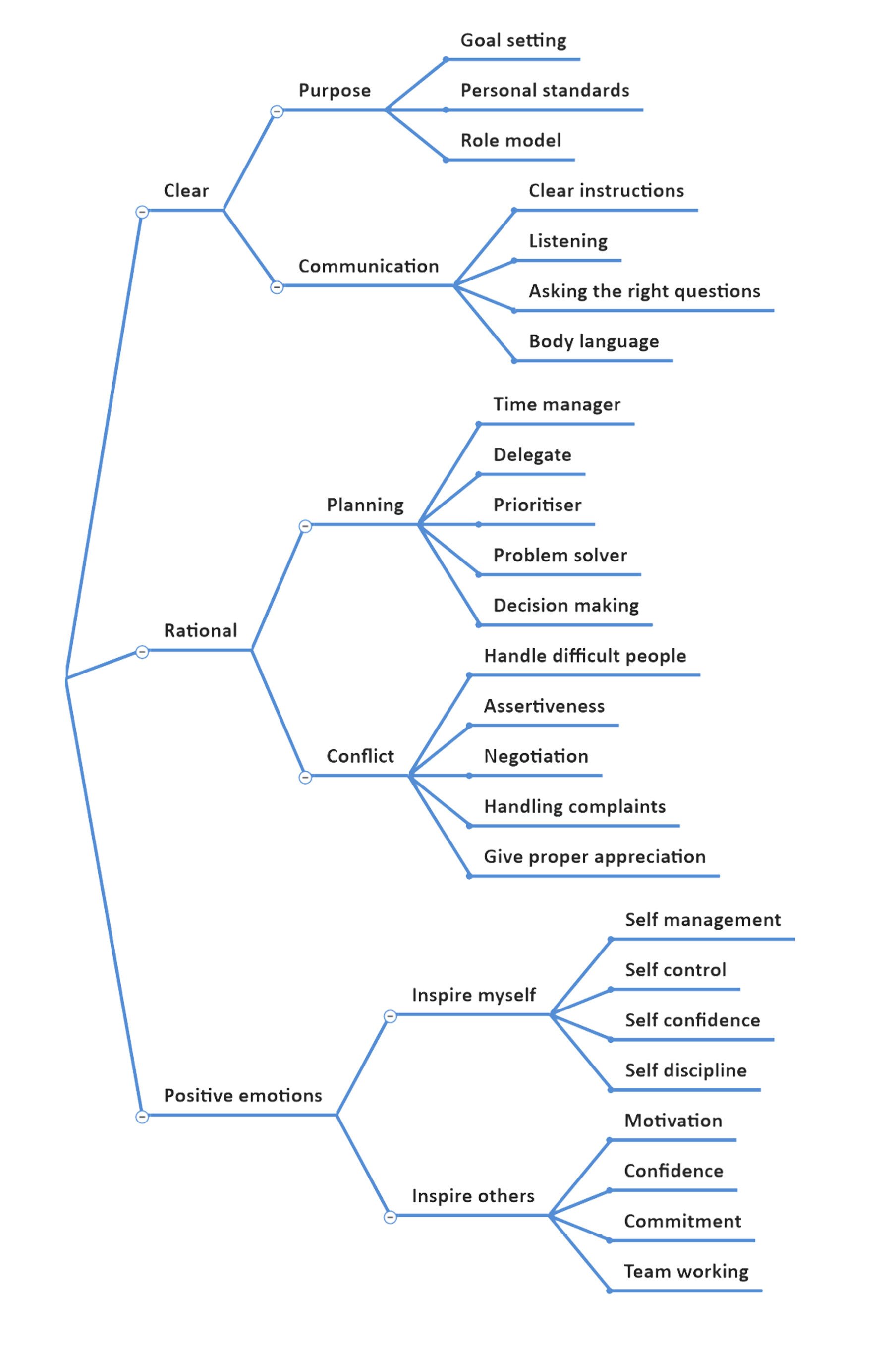 Blogs by Email
Do you want to receive an email whenever we post a new blog? The blogs contain article 5-10 minutes long - ideal for reading during your coffee break!
Further Reading in Leadership and Management
Looking for Leadership and Management Training?
If you're looking for a practical leadership skills course, you may find this Leadership and Management Training Course beneficial:
Open Training Course Pricing and Availability
Next Open Course Starts in 9 days, Online - Teams, places available