Make an Enquiry
X
If you feel you would like to attend but cannot yet commit to a secured booking, you can express your interest here.
Time Management Training Course Outline
Do you have days when you're busy but not productive? Overwhelmed by the sheer volume of work? If so, then our training course in time management will give you practical techniques and tools. Learn to plan, prepare and delegate, avoid procrastination and time stealers. Become more productive and less stressed by learning effective time management.
The course content was very good, I really enjoyed it. A lot of skills that can easily be applied (as well as some more difficult ones) to work and life. Excellent manual and got through a lot of content in detail. The trainer's was very good, knowledgeable, friendly, approachable - clear and concise.
Customer Reviews
Time Management Training - Morning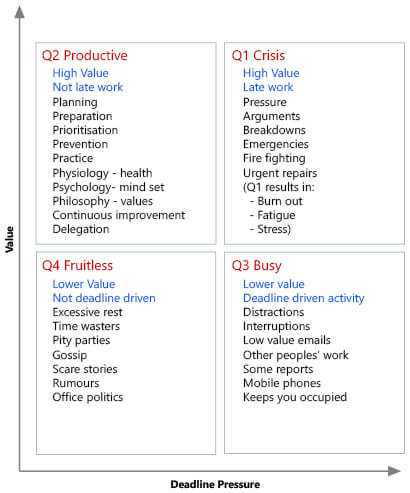 Definition: What is time management training?
Time management training explains how to achieve maximum productivity, in a limited amount of time. It includes instruction on goal-setting, prioritisation, delegation and prevention of avoidable errors. Effective time management improves your organisation's efficiency.
Time Management Prioritisation Grid
All tasks should be judged according to two criteria:
The value of the task
The deadline pressure of the task
These two criteria help us to build the time management grid.
The Time Management Grid Generates Four Types of Activity
High value, late work - Q1 Crisis
High value, not yet late - Q2 Productive
Occupied, but not productive - Q3 Busy Zone
Low value, waste of time - Q4 Fruitless Zone
Many people spend their time working in Q1 crisis and Q3 busy-work, chasing tight deadlines – this is bad time management. They fail to do enough Q2 planning and thus, they sow the seeds for a fresh crop of Q1 crises.
They should be spending more time in the high-value, not deadline driven, Q2-Productive zone.
The Productivity P-List
Progressive. Profitable. Purposeful. Prioritisation. Planning. Preparation. Prevention of avoidable errors.
The P-List is your key to avoiding poor time management
The enemy of the Q2 P-list is the Q3 busy work.
Q3 Busy work is "the stuff that gets in the way" of high-value productive work.
Your mission is to do the high-value Q2 work, in advance of need, by controlling the "trivial-many" Q3 work.
What can I do about people wasting my time?
Counter-measures you can use to stop people wasting your time.
What are my bad time management habits?
How to identify the distractions that take you from the P-List activities.
We call this the time management SOS: Self, Others, Systems.
Self: Your own bad habits
Other people
Systems: Inefficient work systems
Eliminate poor time management habits and replace them with good time management skills.
Time Management Skills Questionnaire
A time management questionnaire to identify bad habits that you or your colleagues, may have.
Prioritisation
Prioritisation is the key skill of good time management.
Because you cannot do everything simultaneously, you must prioritise your tasks.
Prioritisation Method
A time management prioritisation tool, which will enable you to properly prioritise your tasks:
On paper
On computer and
Via an app on your mobile
Decision Making
Your effectiveness ultimately depends on your ability to make the right decision and solve your problems. There are five types of decisions you must master:
Prioritisation by value
Prioritisation by logical sequence
Yes or no decisions
Which one, What kind decisions
Problem – Cause – Solution analysis
Delegation
Definition: The act of entrusting a task to another
Delegate the right task, to the right person, for the right reasons
Reasons to delegate:
Delegation frees you up for other work
Delegation as a form of training
Delegation ensures maximum productivity from the team
Delegation helps you to balance the load
Delegation can reduce your stress levels, if done correctly
How to delegate:
Use 8-Part SMART.
Eight questions that need to be answered in order to properly delegate a task.
Why some people are afraid to delegate
A discussion on the excuses people use to avoid delegating.
SMART Targets as a Goal-Setting Tool
Time Management depends on being goal-focussed.
Handling Distractions and Interruptions
Distractions and interruptions are one of life's biggest time stealers.
Find out how to interrupt the interrupter, to gain the maximum value in the minimum time.
Apply the 80–20 rule to your own time management
The 80 20 rule says that 80 percent of the value is contained in 20% of the content. Apply the 80-20 rule and maximise your efficiency.
How to manage emails more effectively
Emails can both help and hinder your progress - we will look at how you can manage your messages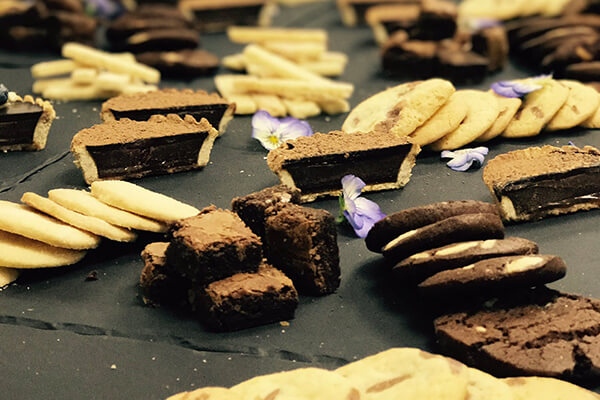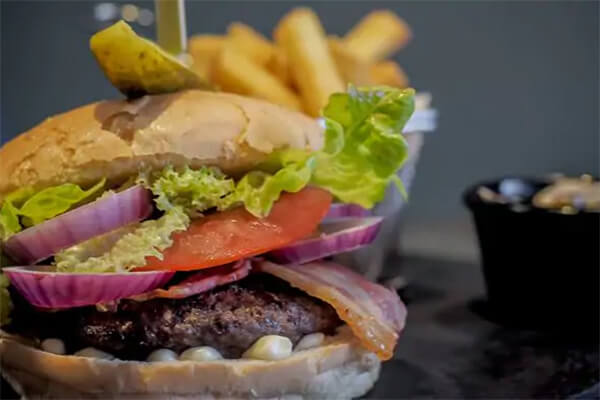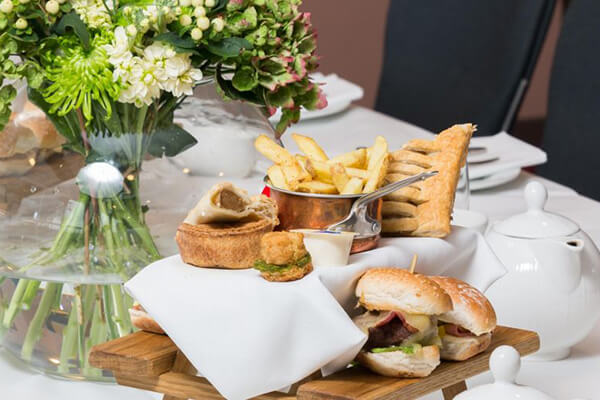 A selection of food which is available on our open courses - varies per venue
Time Management Training Programme - Afternoon
Personal Effectiveness Training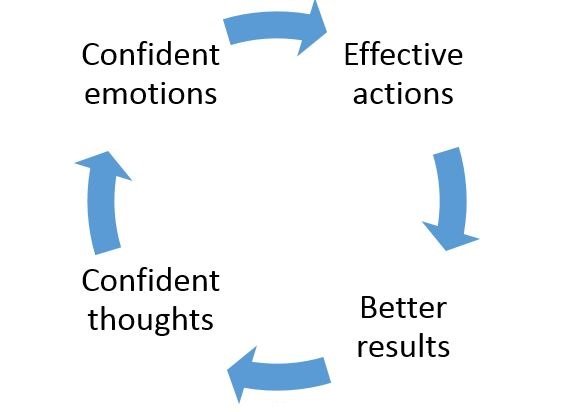 Definition: Personal effectiveness is a measure of your ability to achieve the maximum progress in the minimum time, money and effort. It is the result of a productive state of mind, combined with an effective set of actions.
Productive State of Mind
Your effectiveness has an emotional component.
We will examine how your productivity is affected by your emotions and how your emotions are affected by your mind set.
How your physical health affects personal effectiveness
"A healthy mind in a healthy body" ("Mens sana in corpore sano").
Keeping your body healthy with exercise, is essential to keeping your mind in a positive state.
How to improve your energy levels and health habits.
How to maintain a positive mental attitude
We will examine the role of worry, stress, fear, anger, upset, and how it negatively affects productivity.
We will examine how higher levels of confidence, optimism and happiness positively affects output.
Master the art of conversation control
Keep office conversations on productive, rather than non-productive, topics.
In your place of work, how much time is wasted in negative, go-nowhere conversations? We will help you to refocus office conversations onto productive topics.
The Continuous Improvement Cycle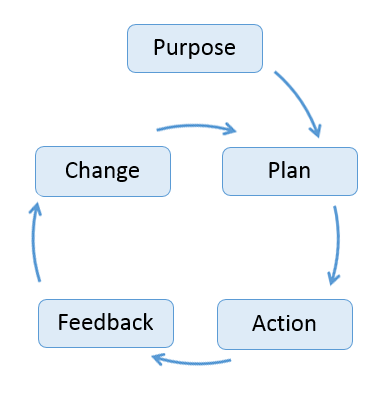 All successful action is the application of a simple five-part cycle:
Purpose, plan, action, feedback, change.
The Success Formula
Purpose: Set the goal
Plan: Formulate your best plan in writing
Action. Take decisive action
Feedback: Gather and evaluate the feedback, both positive and negative
Change: Make progress by continually adapting and evolving. Recognise that the success formula is a continuous process
Putting the success formula into practice
The success formula as a series of eight questions which you ask and answer every day.
Feedback vs Failure
Feedback comes in two varieties: Positive and negative.
We will help you to make better use of both types of feedback.
How to make the future better than the past.
We will show you how to use the information on this course, to ensure your future is much better than the past.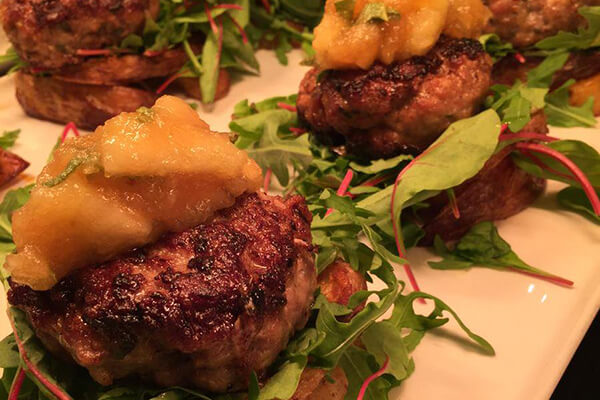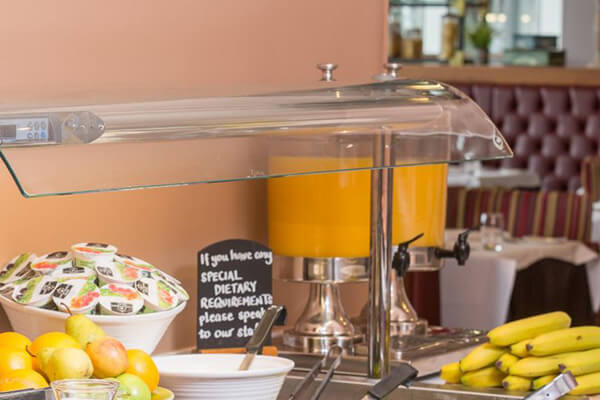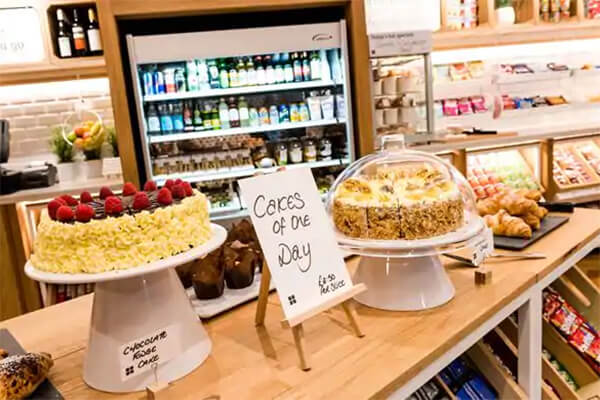 A selection of food which is available on our open courses - varies per venue
The course content was very informative and professionally delivered. Would definitely recommend and would use again. Thank you. The trainer's presentation was excellent, clear and concise. Interesting and engaging.
Customer Reviews