Six Positive Motivators
Six Positive Motivators
Motivation is an important but complex issue. It is important to motivate yourself and others.
But how do you do that? If you want to know how to properly motivate others, please read on...
There are two broad types of motivator.
Positive motivators and
Negative motivators.
The negative motivators are: Anger, revenge, bitterness, fear and worry.
Meaning that you will act as a result of being in a state of anger, revenge, bitterness, fear and worry.
We recommend that you don't try to motivate yourself or others by means of negative motivators. Use the positive motivators instead: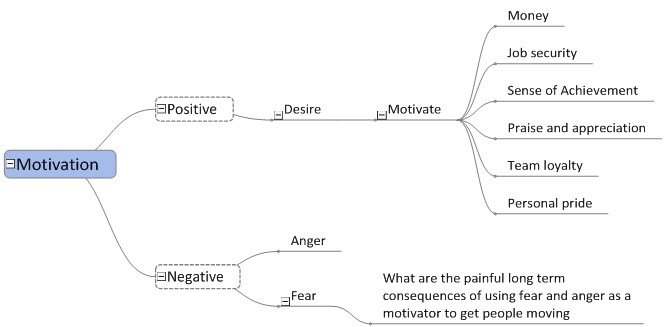 The positive motivators are motivators of desire. Everyone wants something, and we are motivated to get what we want.
Generally desire is a better motivator than fear or anger:
Because to be desirous is a pleasant mental state.
But to be angry or fearful is an unpleasant mental state.
Under the general heading of "positive, motivators based on desire", we can write out six subsets on which to act upon:
Money
Up to a point, money is a good motivator. We can transform money into other things of value.
Money allows us to buy the things we need (shelter, food, electricity) and money allows us to buy the things we want (a fancy car, clothes, perfume).
Money can also buy us time.
However, money may not be enough on its own to carry us through any particular day.
People are more complex than that. They need more than money!
Security
Once we have enough money to take care of our immediate needs, we turn our attention to keeping what we have.
We want long-term security.
Few people are happy when the future is uncertain. We want to feel secure about the future. We feel better when we feel secure. So "security" is a motivator.
Achievement
If we were rich beyond dreams, we would not necessarily be happy. Most people are motivated by the desire to achieve something worthwhile, even if they do not need the money.
Thinking of ourselves to be effective and capable in our chosen field creates positive feelings.
Achievement is proof that you are an "effective person".
So professional achievement is a positive motivator.
Recognition
We could achieve things alone on a desert island.
However, achievement is even more motivational if it brings recognition from others.
We are social animals and therefore most people are motivated by recognition and praise from others.
What happens to your motivation if you work hard, achieve a winning result and nobody recognises it? (Your boss says, "That is what you are paid for!")
Acceptance from others
With recognition of achievement comes social acceptance. We all want be accepted.
First, we want to be accepted by our immediate family; then by a wider peer group; then by an even wider professional circle.
Most people are motivated by feelings of connection to a larger group.
Self-image
Some people miss out the previous step because the ultimate motivator is their self-image.
The self-image is: "The sum of the thoughts, feelings and beliefs a person has of his, her own nature, abilities and potential"
We all have a need for a positive self-image. A good, personal self-image leads to productive thoughts and feelings, creative actions, confidence, and healthy relationships.
An impoverished self-image leads to negative thoughts and feelings, destructive actions, loss of confidence, and broken relationships.
So never undercut or degrade the self-image. Make it your policy to purposefully raise the self-image of yourself and others, (consistent with the facts).

Please write your answers to these questions and act upon them.
Can you influence the person's ability to earn money?
How can you help people to gain a feeling of security?
How can you use "personal achievement" as a motivator?
Do you use "recognition" to motivate others? If so how?
How can you help your people to feel "part of the team"?
How could you consciously build-up the self-image of each member of the group?
Blogs by Email
Do you want to receive an email whenever we post a new blog? The blogs contain article 5-10 minutes long - ideal for reading during your coffee break!
Further Reading in Leadership and Management