Personal Development Training - Honesty is the Best Policy
Honesty is the best policy
There is a kind of cynicism that assumes that organisations that are doing well in business, (i.e. those organisations that are making good profits) are in some way, immoral.
There is a kind of cynicism that equates, "making a profit", with "profiteering". So when the gas companies posted their profits, this year, the media accused them of "profiteering".
Making a large profit is the sign of a GOOD business, provided it is done through honest trading.
Not all profit makers are dishonestly "profiteering".
Benjamin Franklin was the one who coined the phrase, "Honesty is the best policy".
The business world is, by its nature, run on moral principles
Honesty in business is not only a moral virtue, Honesty is also a good business policy. Why is that true?
Because nobody likes a dishonest person or business.
Nobody will do business with someone they regard as dishonest.
Your success in business depends upon your reputation for being honest and reliable.
If you cannot be relied upon to be there, when you said you would be there; and if you cannot be relied upon to pay what you owe then, eventually, people will find someone else to deal with.
Honesty is the best policy morally, commercially and psychologically
Honesty has three main aspects.
Honesty relating to money.
Honesty in verbal and written statements.
Intellectual honesty.
1. Honesty relating to money
Obviously, John will not be trusted by anyone if they find him to be dishonest with money. For example: If an MP fiddles his expenses claim, how can we be sure that he is not dishonest in other aspects of his affairs.
If Sam drinks coffee and tea in the office kitchen but does not put the money in the tea fund, then Sam's integrity is rightly questioned.
Honesty when it comes to money is top of the list.
2. Honesty in verbal and written statements
Your word is your bond. Or at least, it should be.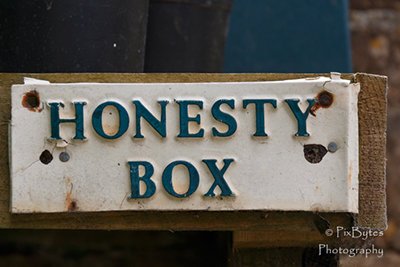 If you say you will be there at 10 o'clock, then be there at ten.
If you say you will do it, then do it.
If you forgot to do it, don't tell her that you did do it, and hope she never finds out.
Don't lie. There are three things wrong with lying:
You have to remember what you said, so that subsequent lies don't contradict the first lie. This is really tricky.
Some lies will be found out, and then everything else that you ever say, will be tainted with suspicion.
To lie is not a very nice thing to do.
The best gift you can give yourself and others, is a reputation for honesty. You want people to be able to say, "I know it's true because, Jane said it was so, and we know that Jane does not lie".
William Shakespeare said it like this: "No legacy is so rich as honesty."
3. Intellectual honesty
This last form of honesty is the act of being honest with yourself. Intellectual honesty is the act of refusing to evade any painful truth about yourself or others.
For example:
If you have put on weight by eating too much and never exercising, intellectual honesty is the act of recognising that, and not blaming the McDonalds Corporation for making you fat.
If you have homework to do, then do it.
If you have some prep work to do, so as to be up to speed for the meeting, then do the prep work.
The truth will set you free - Do not evade the painful facts, by an act of dishonest evasion or rationalisation.
Don't hide from the truth - Face the facts with courage and honesty.

Truth is truth - Because the facts are the facts,
Therefore: Honesty, really is the best policy.
Blogs by Email
Do you want to receive an email whenever we post a new blog? The blogs contain article 5-10 minutes long - ideal for reading during your coffee break!
Further Reading in Personal Development
Looking for Personal Development Training?
If you're looking to develop your Personal Development Skills, you may find this Personal Development Training Course beneficial:
Open Training Course Pricing and Availability
Next Open Course Starts in 4 days, Online - Teams, places available