Personal Development: Reflective Practice
Reflective Practice
Reflective practice is learning through experience. It is a form of continuous improvement, by means of consciously analysing the results of your recent actions and making the necessary adaptive changes, in order to improve the next set of results.
Reflective practice is applicable to every field of human endeavour; and is used extensively in the professions of nursing, medicine, teaching and engineering.
Reflective practice is described by Gibbs and Kolb. They both say similar things using different terminology to express the same ideas.
Here is the Gibbs model.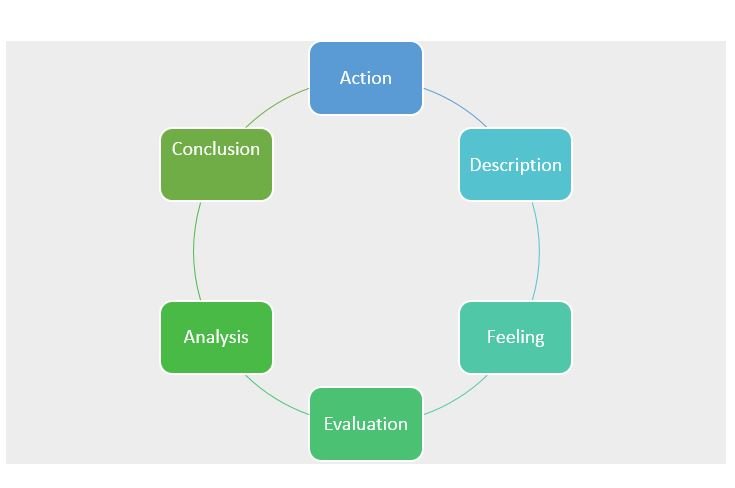 1. Action
An event occurs. Somebody does something. You may be the person taking the action, or you may be the recipient of the action.
2. Description
You then describe the action to yourself; make the description as factual and as objective as you can make it. The object of the description is to get the facts clearly in your mind.
3. Feeling
Then you write about your feelings. This is your emotional, subjective response to the action and your description of it.
4. Evaluation
Once you are clear on the facts, and how they made you feel, then you evaluate the event: Was it good or bad. Right or wrong? Appropriate or not? Effective or not? Fair or unfair? Moral or immoral?
These are all evaluations based upon the facts and your own philosophy.
5. Analysis
Your philosophy is the standard by which you make all evaluations. And your philosophy itself may need to be modified in the light of recent events.
As Socrates said, "The unexamined life is not worth living".
Analysis means, analysing the actions, the descriptions, your feelings and evaluation of what is right and wrong, and making a decision as to whether any one, (or all) of the above, needs to be modified.
You may want to modify your definition of what you will consider to be GOOD, or RIGHT, or FAIR, or IMMORAL.
For example, 50 years ago it was considered immoral to be homosexual. It was a crime! Now it is not considered to be a moral issue and it is not a crime.
So, we know the we make changes in our philosophical, moral, political and ethical judgements over time.
Analysis is the act of engaging in such deep thought.
6. Conclusion
At the end of that analysis, you may come to the conclusion that you need to change your actions and reactions, in the light of your new understandings about how the world works.
Whenever you change your mind (your philosophy), you will also change your actions.
For example: At the end of your analysis, you may conclude that you were wrong to lose your temper. Next time, when something similar happens, you won't lose your temper, but will instead try to discover a more productive response. You will apply your new understanding and you will take a new set of actions.
The actions produce a new result and you then describe that new result and how you feel about it.
To infinity and beyond
On you go. Recycling the cycle; in a never-ending attempt to perfect your understanding of the way the world really works.
How long does this process of learning last?
Answer: It continues until the end of time.
Enjoy!
Blogs by Email
Do you want to receive an email whenever we post a new blog? The blogs contain article 5-10 minutes long - ideal for reading during your coffee break!
Further Reading in Personal Development
Looking for Personal Development Training?
If you're looking to develop your Personal Development Skills, you may find this Personal Development Training Course beneficial:
Open Training Course Pricing and Availability
Next Open Course Starts in 7 days, Birmingham City, places available