How Mental Attitude Affects Results
How Mental Attitude Affects Results
Mental attitude affects results because attitudes affect your actions, and your actions affect your results.
Attitude = actions = results.
What is attitude?
Your attitude is "the sum of your thoughts, feelings and beliefs about any issue".
Attitude is a huge concept because it is built up of three huge sub-concepts:
All your thoughts, all your feelings, and all your beliefs about an issue combine, to form your attitude towards it.
As a formula we could write:
Thoughts + beliefs + feelings = attitude.
You have attitudes towards everything and everyone.
You have attitudes towards your work, your boss, the monarchy, the police, towards people you regard as different.
Your most important attitude is the one you have about yourself.
Your own thoughts, feelings and beliefs about who you really are, and what you are capable of, and where you fit in with the rest of society, determines your levels of ambition and self-confidence.
Your attitudes affect everything you do, everything you say, and therefore the results you are likely to create.
The formula now looks like this:
(Thoughts + beliefs + feelings) = attitude = actions= results.
Therefore, in a convoluted and strange way, your thoughts and beliefs are often the cause your results.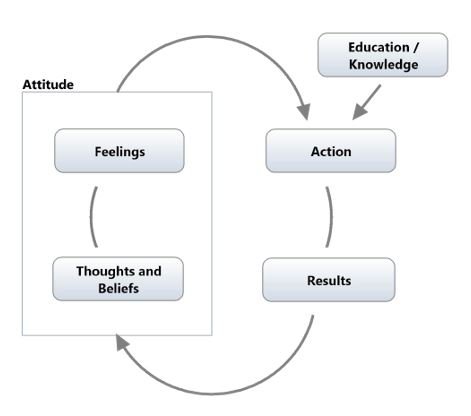 Your attitudes can either help your progress; or hinder it.
You must be very careful about what you allow yourself to think about.
Because in life, you tend to manifest not what you want, but rather, what you expect.
That means if you expect to lose, you probably will; if you expect success, you attract it.
This poem summarises it well:
"If you think you are beaten, you are
If you think you dare not, you don't,
If you like to win, but you think you can't
It is almost certain you won't.
If you think you'll lose, you're lost
For out of the world we find,
Success begins with a person's will
It's all in the state of mind.
If you think you are outclassed, you are
You've got to think high to rise,
You've got to be sure of yourself before
You can ever win a prize.
Life's battles don't always go
To the stronger or faster man,
But soon or later, the one who wins
Is the one WHO THINKS HE CAN!" Walter Wintle.
Blogs by Email
Do you want to receive an email whenever we post a new blog? The blogs contain article 5-10 minutes long - ideal for reading during your coffee break!
Further Reading in Personal Effectiveness