Senior Managers Advanced Leadership Training Course - One Day
Learn practical tools that you can use in real-life situations.
Senior managers need to get the best possible performance from others
Learn advanced communication skills
Leaders set the standard: Demonstrate the qualities you want in others
Advanced Leadership P list: Predict, plan prioritise, prepare, and progress
Leaders and senior managers strive to create a positive mental attitude
Instil your positive mental attitude into the minds of others
Create a forward thinking, purposeful and adaptive organisational culture
Learn in a friendly and relaxed atmosphere with people who are facing similar situations as you.
About this Senior Managers Advanced Leadership Training Course
This course is intended for directors, CEOs, board members, doctors, medics and senior-level professionals.</p><p>This training is designed for high level senior executives who would like to further extend their abilities as an inspirational leader-manager.
Senior management and leadership skills is all about inspiring the best performance from yourself and the other members of the team.
This course covers the importance of creating an optimistic vision for a better future and how to effectively communicate that vision.
Leaders are the Standard Bearer for the team culture. Leaders lead by example. Leaders should role-model the standards that they expect to see in others.
The achievement of any goal requires the creation of practical plans. Consequently, all leaders need to master the P-List skills. Planning, Prioritisation, Preparation, Prediction, and Perfecting the art of proper delegation.
Especially during difficult times, create and sustain a firm belief that ultimate victory is achievable.
Transfer your sense of certainty into the minds of others.
Senior managers and leaders need to create an adaptive, evolutionary organisational culture: A culture that is comfortable with moving quickly to ride the waves of uncertainty caused by an ever-changing economic context.
The course provided lots of useful tools to enable me to support and manage my team and achieve the organisational and directorate goals. Excellent materials, especially the training manual, with appropriate font size as sometimes other material at other courses is too small.
Customer Reviews
Senior Managers Advanced Leadership Training - One Day Course Overview
Day One - Morning
How to get the best from yourself and your organisation
Develop the six major leadership skills:
Optimistic vision, Clear communication. Planning. Handle difficult people. Self-Confidence. Progressive Adaptation to change.
The importance of providing a clear and optimistic vision
The difference between motivation and inspiration
The P list activities: Planning, prep, prioritisation, prediction
Day One - Afternoon
The self-fulfilling prophecy: Expectations change outcomes
Thought control: Control the direction of your mind
Conversation control: Control the direction of their conversation
Create and sustain a progressive culture
Learn the Super 8 leadership questions
Continuous improvement and adaptation to changing circumstance
Using the success formula to inspire others
Summary action plan
Available Dates and Locations
In-House Course Available Call us on +44 (0)20 3856 3037 to discuss your requirements or
Please note all our training courses include optional three months FREE telephone coaching to answer any on-going questions.
Course Timings: Start 09:00 - Finish 16:30. Lunch at 13:00, Tea Breaks at 11:00 and 15:00.
6 trainer-led hours, additional 2-3 via post-course portal independent learning
Our Open Training Courses run in: London, Manchester, Birmingham, Bristol, Maidstone, Scotland, Kent, Reading, Dublin, Ireland, Leeds, Gloucestershire.
In-house courses can be run in the UK or worldwide to suit you.
I have learnt how to organise my work list in a way that is constructive and productive. To focus on the use of objective language. I found the section on conflict resolution very helpful. The 8 Smart plan and success formula is something I look forward to implementing. The trainer executed the presentation with excellence. His knowledge on the subject and obvious passion filtered through and I was hooked from day one. I cannot praise him enough! Thank you
Customer Reviews
Senior Managers Advanced Leadership Training Course Content
Senior Managers Advanced Leadership Training - Day One - AM
Introductions
The role of the senior team, the high-level leaders and managers, is to harness the productive power of the whole group in order to achieve a definite, predetermined purpose.
In order to do that, the leaders must know how to get the best performance from themselves and others. So, the question we start with is this:
How can you get the best performance from yourself and others?
The answer to that is: Develop the six major leadership skills. There are very many leadership skills, but they can be organised into a system made up of six major sets.
Clear vision
Clear communication
Proper planning
Handle conflict
Inspire yourself
Inspire others
The importance of providing a clear and optimistic vision
All great leaders are great because they offer a clear vision of a better future. Every leader needs to develop the quality of "clarity of purpose".
Generally, we all share the same purpose: The purpose of your organisation is to add value to your customers, by means of providing excellent products and services and by forming mutually beneficial relationships.
How we do that in specific terms varies. But the principle is the same for us all.
We need to have a clear and optimistic vision for the future.
We need to be able to create and communicate a clear vision.
Exercises in expressing the vision.
What is your vision for your organisation?
How do you communicate your vision to all those who need to know?
Notes and guidance in good communication skills.
Practical Exercises: Learn by doing.
Part Two: The plan.
The vision is the goal. All goals need practical plans that are capable of transforming the vision into a reality. The leader must be able to coordinate the team and create a coherent plan that is the practical expression of the vision.
This introduces the concept of the P-LIST activities. The P list activities is a list of skills all starting with the letter P.
Planning, prioritisation, preparation, prediction. problem solving, prevention of avoidable error.
Exercises in expressing the P List activities
Decision making:
What is the priority?
Problem cause solution?
Prevention of error?
Prediction of problems?
Notes and guidance
Practical Exercises: Learn by doing
Training course content was excellent, very pertinent and relevant. I have had difficulties at work recently and I could relate the content to those issues and rather than avoid, I now have techniques to resolve conflict. The trainer was clear, concise and professional. The concise material was relevant and summarised well.
Customer Reviews
Senior Managers Advanced Leadership Training - Day One - PM
Part Three. Mental attitude:
The plan needs to be backed up with a positive mental attitude.
Attitudes are the sum of the thoughts and feelings about any issue.
Attitudes affect results in the following way:

Thoughts and feelings affect actions, and actions affect the results.
So, your thoughts and feelings affect the bottom line results.
It is important the leaders are very aware of the attitudes (thoughts and feelings) that are prevalent in their organisation.
All leaders need to develop their Emotional intelligence skills.
The rule is simple:
Negative attitudes (Doubt, fear, anger, resentment) tend to create negative results
Positive attitudes (Optimism, courage, enthusiasm, cooperativeness) tend to create positive results
The question we must now answer is this:
How specifically, can we create and sustain a positive mental attitude, especially during tough times.
Ideas and exercises describing exactly how you can improve your abilities to create a positive attitude in yourself and others.
Mind control. (Control the content of your own mind)
Conversation control. (Control the content of your own conversation)
Conversation control part II (Control the content of other people's conversations)
Part four: The Super 8 leadership questions.
The company culture needs to align itself with the principles of successful action.
All successful action can be described by the following diagram.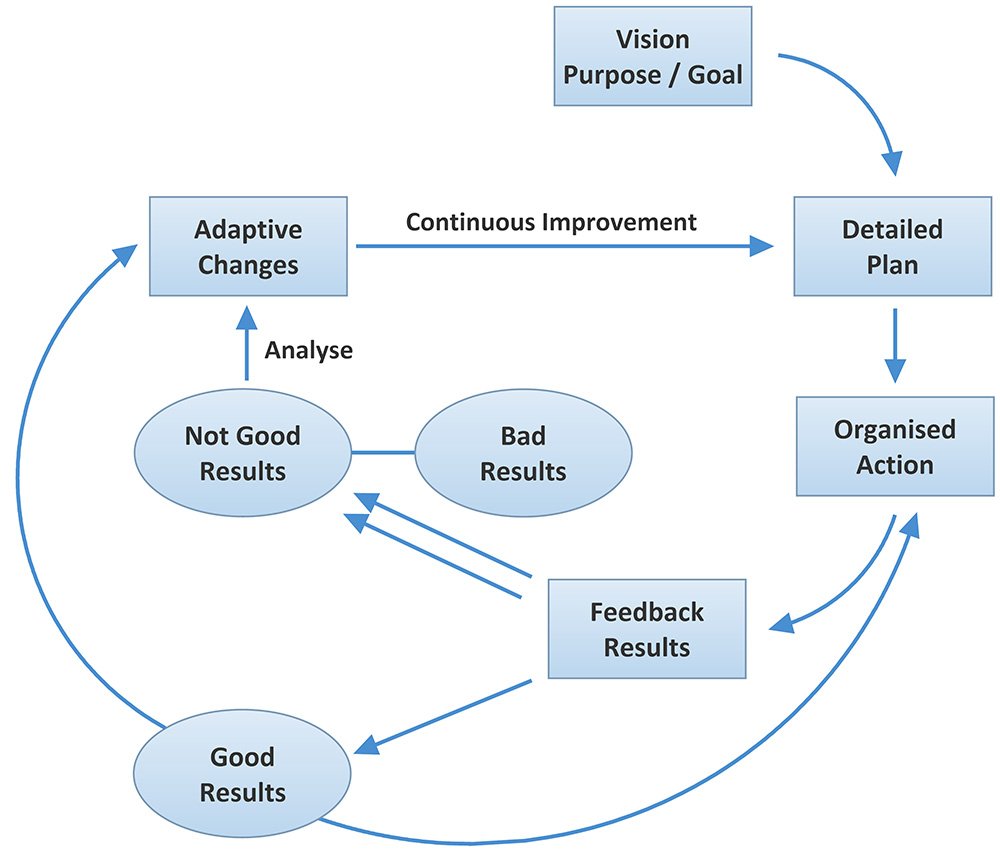 Using the diagram to inspire others.
This model suggests 8 leadership questions that need to be continually asked by you and answered by your team.
What is the vision, the goal, the purpose of this organisation?
How detailed are our plans which are designed to help us achieve our purpose?
How are we currently organised to effectively implement our plan?
By what means are we measuring our feedback results?
What positive feedback are we currently getting from our stakeholders?
What negative feedback are we currently getting from our stakeholders?
In relation to the negative feedback, what adaptive changes do we need to make to our current plan of action that will get us back on track and take us to our goals?
In relation to positive feedback what further adaptive changes might we consider in pursuit of continuous improvement?
These questions are to be memorised and to be continually asked by the you.
Every day, you ask all eight questions and expect good answers from the team.
If you ask and demand answers to these 8 questions you will guide your organisation to success.
Application of these Super 8 leadership questions.
Additional Notes and guidance.
Practical Exercises: Learn by doing.
Summary action plan.
The course content was very interesting, informative and certainly made me question some of my behaviours and actions. It was interactive which ensured my interest was held for the duration. The trainer's presentation was excellent - the perfect balance between theory, group participation and personal insight and experience. Many thanks.
Customer Reviews
The Course Training Method
The training method follows this general pattern - the training is very interactive and interesting:
The trainer gives a clear explanation of the point in question with specific examples.
Then, the delegates practice by doing an exercise with each other.
The delegates practice by doing an exercise with the trainer.
All points are supported with full written notes to take away.
Delegates are asked to write down an associated action, for each point made.
(At the end of the day, we have about twenty such actions, from which the delegates choose six which are the most personally meaningful).
Note: we do not believe in placing people in any situation of embarrassment by demanding that they 'perform' in front of the whole group. So you can relax: come on this course and be at ease; ready to learn new skills!
Express an Interest
If you feel you would like to attend but cannot yet commit to a secured booking, you can express your interest here.
In-House Training Course Pricing and Proposal
This course is also available from just £1,950 +VAT per day as a bespoke in-house group training course in the UK and worldwide.
It has been designed to provide a similar experience to our open courses, however we can tailor the content to fit your specific needs. In-House Group training costs from just £1,950 +VAT per day for up to 20 delegates (international training price varies). Plus, hotel accommodation for trainer if necessary. (Premier Inn type: not the Hilton!)
This price includes:
Quality training delivered by an experienced trainer
Full colour course handbook
Personal written action plans
Access to additional free training material after the course
Three months free telephone coaching
Contact Us Today
Please call us on +44 (0)20 3856 3037 to discuss your requirements for the in-house training course.
If you want to know more about any other Management Training Courses, or their suitability for you or a colleague, call us on +44 (0)20 3856 3037.
Email your Manager
If you are reading this page with the intention of attending the course, then you may need to 'put forward a case' to a manager who makes the final decision.
So, you may find it beneficial to give your manager this document, which will give all the information needed to make the right decision.
To do this, please enter the manager's email address below and.. take me to your leader!



* Just so you know, we'll add your details to our records.
Other Popular Courses
You may be interested in one of our other popular courses: