What is Mental Health Awareness Training?
Mental health awareness training is designed to show people the practical steps they can take, to ensure they do not feel despondent or depressed during difficult times, and instead, maintain a steady state that we call, 'rational optimism'.
Mental health is a product of several factors that combine to produce an effect.
These factors include: the dominating thought habits of the individual; the physical habits of the individual (diet, drugs, exercise, health habits); the working environment; the effects of work and methods of working; the social environment; the effects of other people on your mind.
This course is about how we can organise these factors to produce the positive results we want.
Customer Reviews
On this course, I particularly liked the way principals were broken down in explanation and then built back up to give a better understanding. The section on conflict was extremely interesting, mainly to do with the language used. The trainer wa... [Read More] Alex
Translate Bar
The course content was very in-depth and skills learnt to assist within the company that I work for. Extremely helpful in dealing with conflict. The trainer's presentation was very thorough and extensive knowledge
Sharon Stockdale
Hotel Chocolat
Course Overview - Mental Health Awareness Training
We start the course with a definition of what is 'good mental health'.
We explore the factors that combine to create good mental health, and those which conspire to prevent it. The factors that combine to create (or prevent) good mental health are: thought habits, health habits, environmental factors, social pressures.
We start with the individual and what we can do to help ourselves. We discuss how mental health is fundamentally a function of how we evaluate ourselves, in relation to events. Some people evaluate themselves and events in debilitating ways. Other people evaluate themselves and events in progressive ways. We will explore both attitudes.
Then we move to the physical components of mental health. Some people have habits that destroy their brain chemistry, and others have habits that support it. We will investigate both positive and negative sets.
Then we move to the work environment. Some people live in work cultures that assault the mind, whilst others work in cultures that enrich the mind. We will explore these different environments and the affect they have on mental health.
Then we turn to the social environment. Some people are surrounded with people who mentally abuse them. Other people surround themselves with people who are nurturing and supportive. We will look at both sets.
At the end of the training, we combine these factors together to build a personal action plan to promote good mental health.
Learning Outcomes:
Remove the stigma surrounding mental health in the workplace
Improve productivity by fostering good mental health
Reduce the loss of performance caused by poor mental health
Gain awareness of how the workplace culture affects mental health
Spot the warning signs of potential mental health problems
Avoid cultural practices that constitute mental health risk factors
Create a culture that promotes good health
Course Details - Mental Health Awareness Training
Morning Session
What is meant by the term "mental health"
What is your understanding of the term, "Mental health"?
The World Health Organisation, (W.H.O.) defines mental health as:
A state of well-being in which every individual realizes his or her own potential, can cope with the normal stresses of life, can work productively and fruitfully, and is able to make a contribution to her or his community.
Our working definition is:
Mental health is the state of being whereby people feel the optimum emotional responses that are appropriate to the circumstances that face them.
That means that people:
Are happy when is it is appropriate to be happy.
Are sad when it is appropriate to be sad.
They are confident when it is appropriate to be confident.
They are not over-confident
They are not too easy to anger
They are not blindly optimistic
They are not cynical, pessimistic and depressed
They are fully functioning, well adapted, adaptable and happy
They are evolving beings, perfectly poised to live life to the fullest, even though the future must remain forever uncertain
Mental health impacts your bottom line results
Mental health impacts on "bottom line results" because mental health is about building optimum responses. Poor or inappropriate mental habits creates inappropriate, or destructive emotional responses; which negatively impacts on results.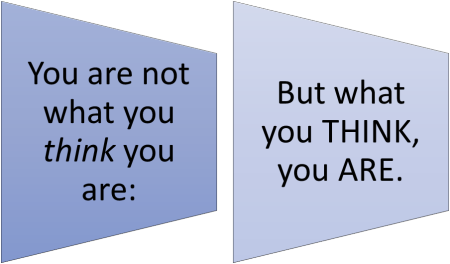 Signs that indicate a person is in the mental health "danger zone"
Here are a set of fifteen warning signs that a person may be in the danger zone.
Habitual feelings or expressions of anxiousness without clear single cause
Habitual feelings or expressions of anger and or aggressiveness
Habitual feelings of guilt or shame
Chronic lack of optimism, self-confidence and happiness
Inability to take valid criticism of personal performance
Inability to handle setbacks and defeats. Lack of resilience
Inability or refusal to accept the need to change
Incessantly stressing over things over which they have no power to change
Low levels of self-esteem and self-worth
Irrationality. Inability to rationally interpret events: Weird conspiracy theories. Victim mentality
Poor health habits. Misuse of food
Over-use of alcohol: Dependence on alcohol
Over-use of medication. Drug dependence
Inability to sleep. Inability to relax
Depression. Feeling that life's problems are too much to bear
Everything starts with a thought
Everything in the human world starts with a thought:
The question we need to answer is: Who controls your thoughts?
Simple answer: You control your thoughts. (Or at least you should).
Rule to remember:
"You do what you do and you feel what you feel, primarily because of the thoughts that you allow to dominate your mind."
A positive mental state relies on your ability to control and direct your mind and your conversation:
Consistently
For extended periods
Irrespective of what others are doing
Irrespective of what others are saying to you
Methods to control the focus of your mind and conversation.
Self-image psychology
The Self-image: The self-image is the sum of all your thoughts feelings and beliefs about who you are, what you think your abilities are, what you think are your limitations, and how you fit in to your social setting.
Abilities. Limitations. What you could do. What you could not. Where you fit in. Where you don't.
Here is a big question: Who are you? and How do you know?
The Self-image: The golden key to good mental health
Some people have a strong self-image
Some people have a weak self-image
Most people have a functioning self-image (which has the occasional wobble)
If you want better mental health, then understand the importance of the self-image.
You become what you think you are
You feel what you think about
How people reveal their self-image by the way they speak
You can tell something about a person's self-image, by finding-out how they would be comfortable completing the following half-sentence.
I am a ........ person.
Afternoon Session
The Mind-Body connection
It is important to remember that you are made up of two elements, mind and body.
Your body is the material, solid part of you.
Your mind is the immaterial, mental (and spiritual?) part of you.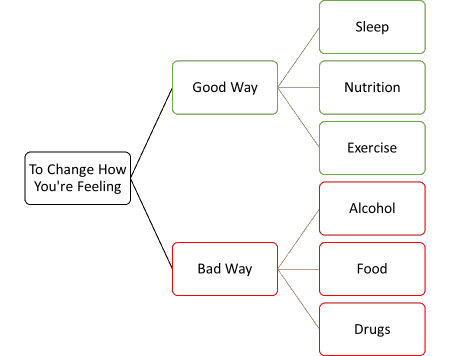 A healthy mind and a healthy body
A healthy body leads naturally to a healthy mind. If you're not as happy as you would like to be, then look at your health habits.
If you are not happy, then check your levels of vitality. I suspect that a lack of vitality and low levels of health may be one of the causes.
Mental health awareness - Environmental factors
Our emotions are affected four major categories of causes:
Our own mental state. What we think about and how we think about it
The actions of others. What other people do to us
The physical state of our body. Our level of health and energy
The physical environment. Our surroundings
We are all affected by the external environment.
Some environments are conducive to good mental health and productive efforts
Other environments are NOT conducive to good mental health and productive efforts
And some environments are destructive to good results and may even promote poor results
What is required to have a good mental health and productive effort?
In order to be productive your body needs certain things:
Air, (Oxygen)
Water,
Light, (preferably natural light)
Sound Not too much
And the opportunity for silence
Temperature. (comfortable or not?)
Pressure. (Realistic work load or not)
How would you rate your working environment?
For each of the following, please rate your working environment out of 10.
Good ventilation - Score higher for good ventilation
Access to water - Score higher for good access to water
Good lighting, preferably natural light - Score higher for good lighting
Sound, volume (Loud or quiet) - Score higher for quieter
Temperature (comfortable or not) - Score higher for comfortable
Score out of 50 =
Double it to give a score out of 100.
What is the major weakness?
What could you do to improve on the current situation?
Self-healing
You are not what you think you are!
But what you think, YOU ARE.
Your personal experience is not one thing. It is composed of five subsets, see below.
Your personal experience of a situation is made up of five elements:

The objective facts of the situation
What you were able to perceive of that situation: what you saw, heard, touched, tasted, or smelled
Whether or not you identified the facts correctly. Or did you misidentify the facts?
How you evaluated the situation. Did you evaluate the facts logically?
How you respond to the situation. Did you respond in an adaptive, non-adaptive or maladaptive way?
The fact is not inherently good or bad
An event is not inherently good or bad. It depends on what you think of it and how you respond
Winning the lottery is not inherently good or bad. It depends on how you think of it and how you respond
Shakespeare wrote:
"…. there is nothing either good or bad, but thinking makes it so...... Nothing is really good or bad in itself—it's all what a person thinks about it." -- Hamlet act 2 scene 2.
Summary and personal action planning
Summary and personal action planning
FAQs
How do I join a Corporate Coach Group course?
The first step to benefiting from this personal development training is to DECIDE to come!
The second step is to select the date, and the venue that are most convenient.
The third step is to follow this link to reserve your seat or phone us on 01452 856091.
Is this course offered in-house?
Yes. If you want us present this course in-house, then we are happy to come to your venue.
We can tailor the course content to meet the specific needs of your team. Click here for details.
What are the warning signs of mental health?
What are some examples of mental health issues?
What is the course training method? Is it interactive?
Yes. We have made sure that your course is highly interactive. We don't use a single method; we vary the style.
Sometimes you are working independently, (for example, when you are doing a self-analysis exercise), then later you will work with another delegate in pairs, (or groups of three).
Then later we will work as a whole class.
There is always plenty of interaction.
So, you will never feel bored, and there is NO death by PowerPoint. All the way through the course, you will feel completely engaged and involved.
We are often told by delegates that the course seemed to fly by, which is always a great sign!
You will find the course is well designed, easy to understand and apply in practice.
We have made sure that the training is relevant to real life, beneficial and crammed with useful knowledge. We are confident you will find the course interesting, well structured, practical, and fun.
How do you develop mental health awareness?1
What kinds of people attend this Mental Health Awareness course?
People who attend this course come from organisations that are experiencing a lot of change.
The delegates who attend this course all want to improve their ability to get the best performance from themselves and others.
Although the delegates who attend the course are all different, they all share a common goal, to learn and apply new skills.
In-House Training Course Pricing and Proposal
This course is available from just £1,950 +VAT per day as a bespoke in-house group training course in the UK and worldwide.
It has been designed to provide a similar experience to our open courses, however we can tailor the content to fit your specific needs. In-House Group training costs from just £1,950 +VAT per day (international training price varies). Plus, hotel accommodation for trainer if necessary. (Premier Inn type: not the Hilton!)
This price includes:
Quality training delivered by an experienced trainer
Full days training
Full colour course handbook
Preparation work
Travel costs and time
Written action plan to take away
Access to our post course portal
Access to our on-line leadership and management decision matrix templates and tools
Plus three months FREE telephone coaching to answer any on-going questions
Contact Us Today
Please call us on +44 (0)20 3856 3037 to discuss your requirements for the in-house training course.
If you want to know more about any other Management Training Courses, or their suitability for you or a colleague, call us on +44 (0)20 3856 3037.
Related Articles from our Mental Health Blog
How to Manage your Mental Well-Being
14 January 2020
Your self-image is how you feel about yourself and your future. Research has linked low self-esteem to poor mental health. Thinking about how you handle problematic situations can help to improve your overall mental well-being.
Continue Reading >