Make an Enquiry
X
If you feel you would like to attend but cannot yet commit to a secured booking, you can express your interest here.
Leadership Management Skills Training (5 Days) Course Outline
Become a better leader-manager by taking your management skills to a higher level. Learn the language of leaders, set worthwhile goals and motivate others. Understand the importance of feedback and develop the continuous improvement formula. Learn how to make decisions, handle conflict situations, improve your delegation and negotiation skills.
The course content was great, very in-depth and made simple to understand. Trainer was very helpful and clear on his presentations, very informative.
Customer Reviews
Leadership Management Skills Training (5 Days) - Day One - Morning
The Drive for results
Basic premise of the training
The future is coming, and we must be ready.
We must know how to get the best performance from ourselves and others.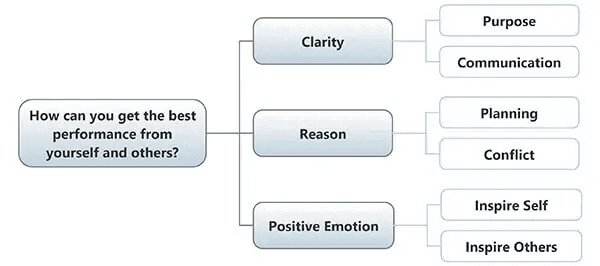 Self-assessment questionnaire
The key qualities and skills.
Clear purpose. Set specific and realistic goals
Clear communication. Effectively communicate your message
Time management and planning: Plan ahead; manage people and time
Rational conflict management. Manage performance issues
Inspire self. Emotional management; Self-motivation, self-confidence
Inspire others. A positive mental attitude in the team
Professional Development S.O.S.
There are three levels of development. S.O.S.
Self-development
Others
Systems
Only if you develop yourself, are you able to develop others
This course is primarily a personal development programme; because only if you develop yourself, are you able to develop others and the systems you operate.
Theme for this session is The Peak Performer:
Peak performer:
Can be counted on to achieve or exceed KPIs/objectives; consistently a top performer; steadfastly pushes self and others.
What makes a peak performer?
What are the distinguishing characteristics that distinguish peak performers from all others?
An exercise to identify the attributes of peak performers
The idea of ideals
Develop your conception of the Ideal and use that ideal as a guide in your daily life. The clearer you make your conception of the ideal, and the more you act in accordance with it, the faster your results will improve.
We know that you will never attain perfection, but at least you are heading in the right direction, and your work will be continually improving as you approach your ideals.
Delegates will discover the attributes of a peak performer and clarify their ideas of how they may become one. We use the ideal as a template to guide our actions.
Lifelong learning
Learning never stops. Knowledge is power.
Suggestions for further study.
Where can we find the best resources?
Summary of morning session
Personal development action planning.
Leadership Management Skills Training (5 Days) - Day One - Afternoon
Customer Focus
Customer focus: Dedicated to meeting the expectations and requirements of internal/external customers; delivers on promises; acts with customers in mind; maintains effective customer relationships.
Goal focus is the starting point of all achievement:
Our goal is to: Add value to the Marketplace. "The Marketplace" means other people, especially our suppliers' colleagues and customers.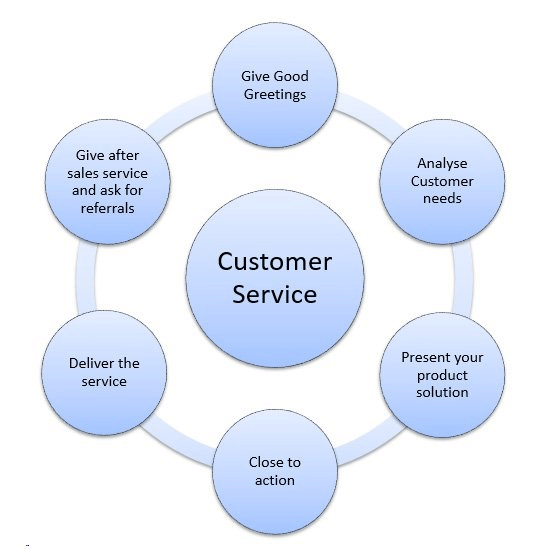 At any moment you have three options:

Success only comes when we add value to our customers.
Customer Service Cycle
Your mission is to make your customer's life better
Communication: The proper use of language
Voice tones: Pace and intensity of the message
Speed: how much information can you give to someone before they become confused?
Intensity of your own emotion
Body language: Dress posture, appearance, image etc
Physical surroundings must create a positive emotion
How people react emotionally to you and your business
Get the best results by being excellent
Promptness and its effect on the mind of the customer
Summary and action planning.
Leadership Management Skills Training (5 Days) - Day Two - Morning
Directing Others
Establishes clear direction; sets stretching objectives; plans and organises well; maintains dialogue with others on work and results; brings out the best in people; is a clear communicator
Goal setting Using 8 Part SMART
Clarity of purpose is the starting point of our achievement

In order to become goal focused, we must know how to set and communicate goals.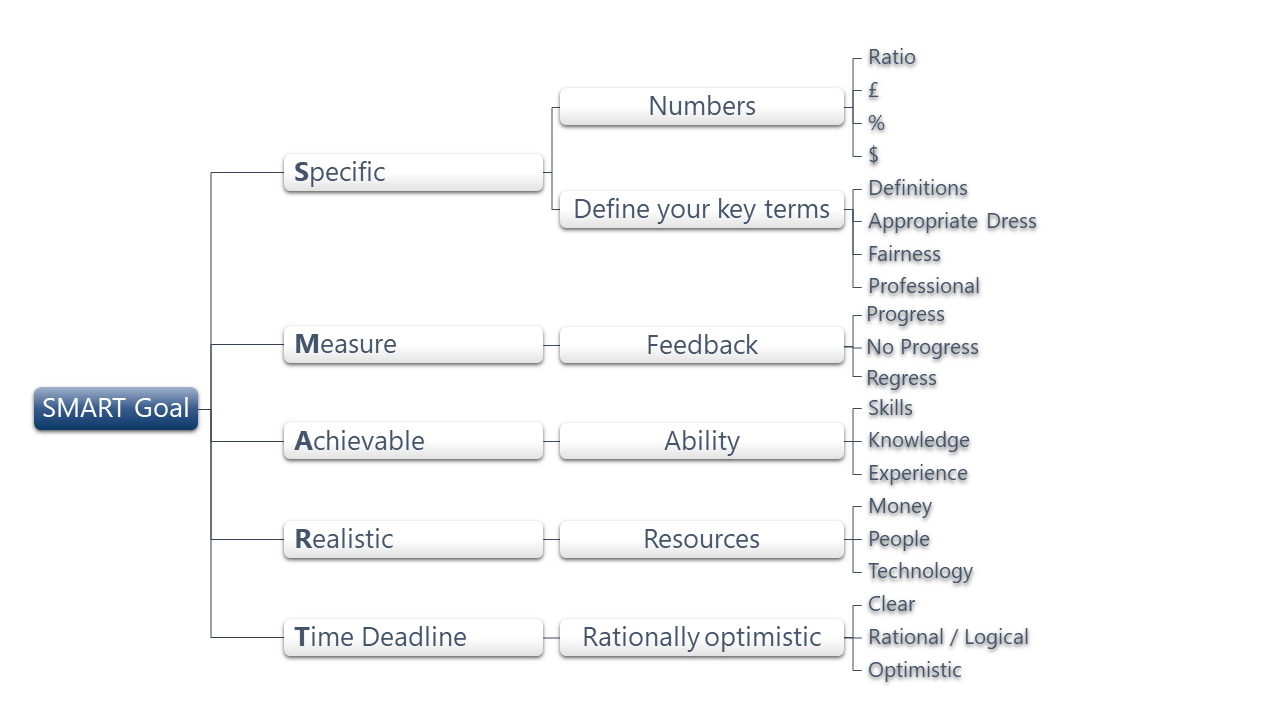 How to make your goals more specific
The danger of vague or ambiguous goals.
Be wary of words and phrases that are "often used but ill defined"
How to specifically define difficult, abstract words and phrases.
The difference between affirmative and negated language
Whenever possible use affirmative language to express goals and instructions.
How to distinguish between a critical response and a cynical response
We need critics, we don't need cynics.
Summary of morning session
Leadership Management Skills Training (5 Days) - Day Two - Afternoon
Managing and Measuring Work
Clearly assigns responsibility for projects/activities and decisions; sets clear objectives and measures;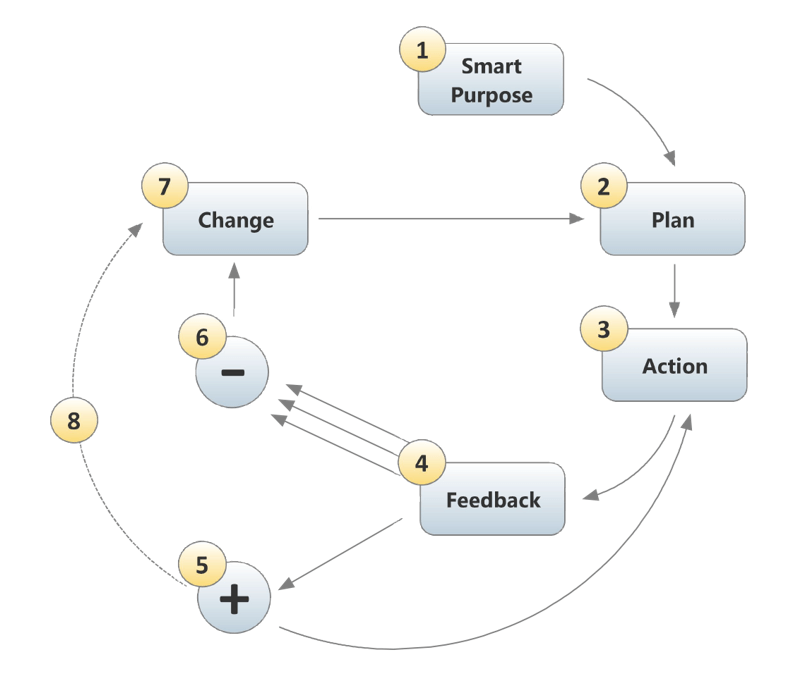 By what means can you condition the minds of every member of the team to act in harmony with the requirements of the success formula?
Keep asking the members of your team the following Success Formula Questions and expect them to give you eight plausible answers.
What are the Eight Continuous-Improvement / Success Formula Questions?
Here they are:
What are the SMART goals for this coming week, (month, year...)?
What are your "detailed, written plans" that describe how you intend to achieve your goals?
In relation to achieving your goals and plans, what are your top priority actions? What are the three or four most important things you need to do next?
What are the feedback measures? What are the Key Performance Indicators? What factors are you using to measure progress?
In relation progress, what has been going well lately?
What has not been going so well, lately?
In respect of what has not been going so well, please tell me, what changes or adaptations do you think need to be made, in order to get things back on track?
In respect to things that are going well; what continuous improvement ideas do you have that will make the situation even better? Do you have any suggestions?
Success formula
Purpose, plan, action, feedback, change.
The importance of measuring actions and feedback results
Feedback is information that relates the result of recent actions to your goals.
Two Feedback measures.
Positive feedback: What is going well
Negative feedback: What is NOT going well
How should feedback be communicated
How should feedback be used
Adaptive change based upon the analysis of negative feedback results.
How to turn failure into feedback.
The importance of praise and appreciation.
Adopt the philosophy of Continuous improvement
Continuous improvement is a rejection of complacency
Develop a progressive attitude
Be always happy, but never satisfied.
Summary of the session and action planning
The course had a refreshingly different approach to other similar corporate coaching. Good pace and not dull. The trainer's presentation was fast paced but this went with the subject matter. A very good trainer with lots of interaction between trainer and group.
Customer Reviews
Leadership Management Skills Training (5 Days) - Day Three - Morning
Organising
Can marshal resources to get things done; can orchestrate multiple activities at once to successfully achieve objectives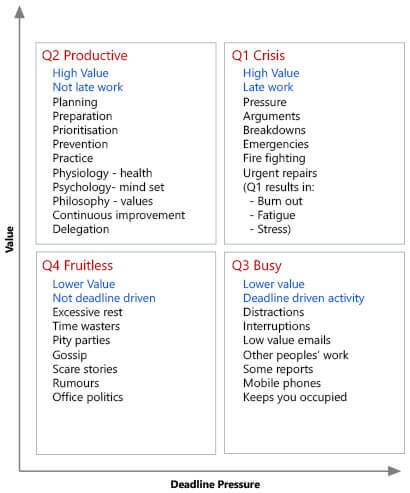 Planning, Preparation and Prioritisation
How can I manage my time better?
Prioritise. Do things in the right order
Manage the Three Time Wasters: S.O.S.
Self: Others: Systems
Identify time management mistakes
Avoid procrastination – Develop a "Do it now" attitude
Stop people wasting my time
Inefficient systems that waste time
How to set specific goals
Delegate the right task, to the right person
Handle interruptions. Manage distractions
Personal time-saving tips. Manage my time better
What is the Pareto Principle; 80–20 rule?
Email management using the 80/20 principle
How can I make the right decision?
Time management action plan
Leadership Management Skills Training (5 Days) - Day Three - Afternoon
Managing through systems
Can effectively design a variety of processes/practices/procedures which allow managing from a distance; complies fully with existing systems; can impact people and results remotely.
Managing at a distance creates special problems
The special problems associated with managing at a distance
The Positive motivators: Purpose. Plan. Progress, Praise, Personal appreciation.
Processes/practices/procedures which will help you to succeed.
The importance of constant feedback.
The phrase "NO news is good news" is not necessarily true.
The feedback communication must be kept open at all times.
The importance of effective written communication.
Develop a detailed written Plan - Your plan is a written document that details exactly how you intend to achieve your purpose.
Write Protocols - are written documents that standardise optimum responses.
Delegation- is giving the right task, to the right person, at the right time.
Progressive thinking- means always looking for improved methods.
Predict and prevent avoidable errors - is the elimination of unforced errors.
Develop their Personal initiative - the act of doing the right thing before you need to. Action on your own volition.
Summary of the session and action planning
Leadership Management Skills Training (5 Days) - Day Four - Morning
Problem Solving
Uses logic and proven methodology to solve difficult problems with effective solutions; can see hidden problems; looks beyond the obvious and does not stop at first answers.

Problem solving techniques:
What is meant by the word "Problem"?
The seven skills of problem solving
What are the four causes of all problems?
The four causes are: Yourself, other people, poor systems, and Mother nature
A logical evaluation of all the available facts
Map-out the problem/ 3 causes / 6 solutions analyses
How can you prevent the problem from happening in the first place?
Map-out the problem, implications and countermeasures
Combine the two methods to create the full picture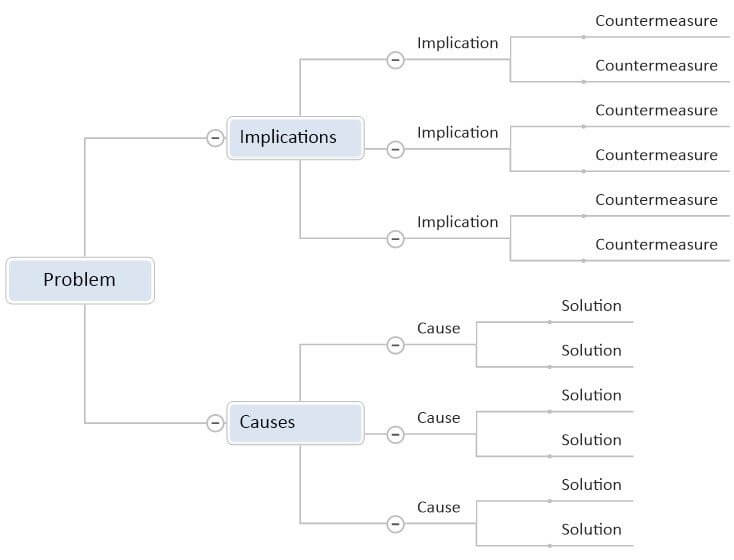 Leadership Management Skills Training (5 Days) - Day Four - Afternoon
Challenging Direct Reports
This deals with problematic direct reports firmly and in a timely manner; doesn't allow problems to fester; regularly reviews performance and holds timely discussions; deals effectively with troublemakers.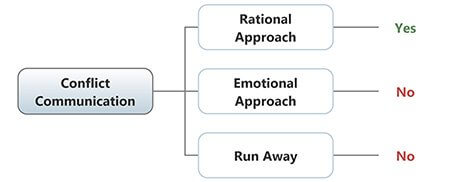 Use REASON to resolve conflict, not avoidance nor high emotion
Use objective, factual language, not derogatory, emotional language
Be exact in your description of what is wrong
Suggest practical solutions and ask for an agreement
Distinguish reasons from excuses and have a different policy for each
During dispute resolution, learn when to compromise and when to stand firm
When managing conflict, use proper body language and voice tones
Give instant praise and appreciation for any concessions or movement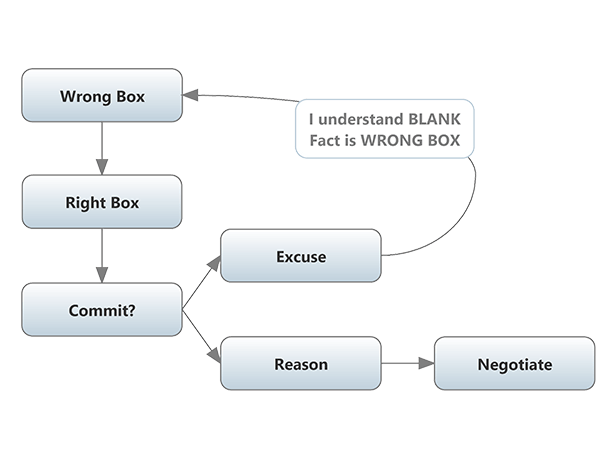 Leadership Management Skills Training (5 Days) - Day Five - Morning
Developing Direct Reports
Provides challenging objectives; holds regular development discussions; constructs and executes comprehensive development plans for individuals and teams; is a people builder.
Get the best possible results from staff appraisal meetings
The purpose of a staff appraisal interview
Help staff members to identify their strengths and their developmental opportunities.
Use a proven formula for super-effective staff appraisals
Help staff members to identify their strengths and their developmental opportunities.
Giving positive feedback
Giving negative feedback
Body language and voice tones
Help staff to set specific developmental goals and objectives
Identifying areas for improvement
Setting specific goals
Inspire the staff member to make progressive and adaptive changes
Formulating detailed plans
Asking the right questions
Set up the right environment
Keep good notes and follow up
Notes on how to take good notes
Leadership Management Skills Training (5 Days) - Day Five - Afternoon
Motivating Others and Building Effective Teams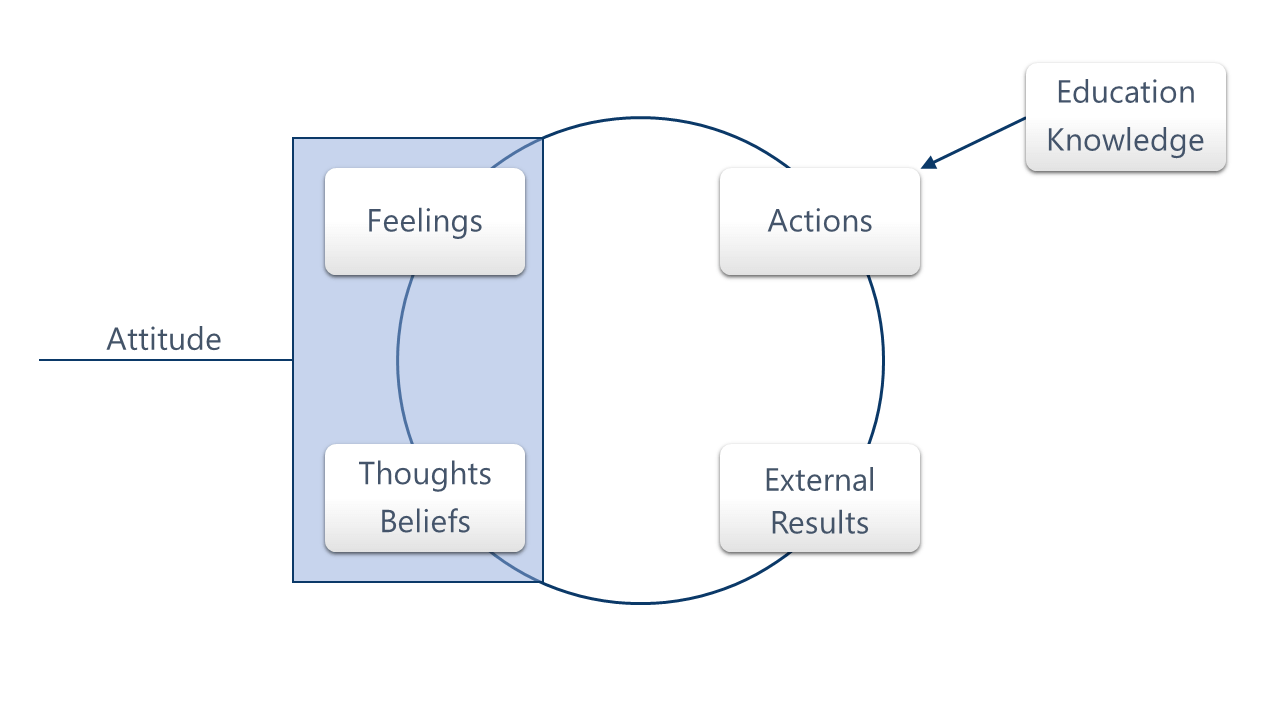 Blends people into successful functional/cross functional teams; creates strong team spirit and common objectives; develops clear roles/responsibilities; fosters open dialogue; defines success in terms of the whole team
Creates a climate in which people want to do their best; can motivate many kinds of direct reports and team or project members; can assess each person's hot button and use it to get the best out of him/her; empowers and involves; is someone people like working for and with.
How can I develop a positive mental attitude in myself and others?
How can I be more positive?
Everything you say emotionally affects other people
Conversation control: Use words only in constructive ways
How can I inspire and motivate myself and others?
Purposefully inspire more optimism: Do it on purpose
Purposefully eliminate fear and replace it with confidence
Apply the Continuous improvement cycle
A system to solve all your problems
Transform "problems" into "learning experiences"
Ask and answer the eight "success formula" questions
Make rapid progress by applying the success principles
Action plan, final summary, close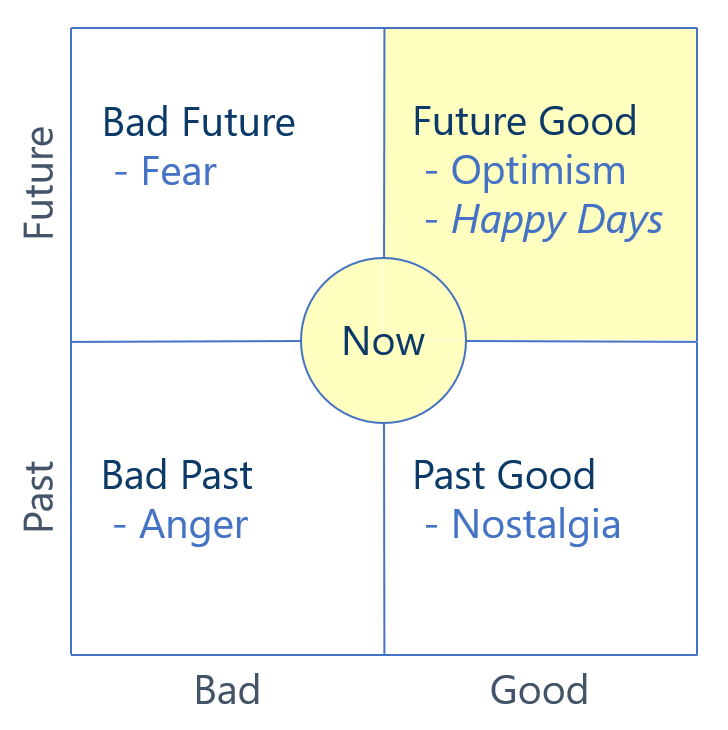 The course content was very relevant, helpful, full of information, good tips and techniques. Found the course very inspiring, full of food for thought that I will definitely use at work and in life. The trainer's presentation was fantastic, very inspiring, enthusiastic, encouraging and positive. The best course I have ever attended! Thank you.
Customer Reviews