Leadership Management Skills Training (5 Days) Course
- Five Day
Learn practical tools that you can use in real-life situations.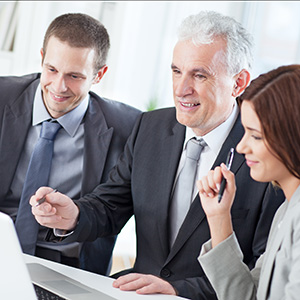 The difference between leadership and management; how to improve both
Set long range, valuable and worthwhile goals
Communicate more effectively: The Language of Leadership
Plan ahead, solve problems; make decisions
Resolve conflict quickly: Nip it in the bud
Self-reliance, self-confidence, self-motivation, self- determination
Inspire others to give you their best performance
Learn proven techniques from expert trainers
Learn in a friendly and relaxed atmosphere with people who are facing similar situations as you.
The course content was very useful with informative models and tips which are useful for both in and out of the workplace. The trainer's presentation was consistent and positive, clearly and concisely delivered. Excellent coverage and quality material.
Customer Reviews
Make an Enquiry
X
If you feel you would like to attend but cannot yet commit to a secured booking, you can express your interest here.
Leadership Management Skills Training (5 Days)
Become a better leader-manager by taking your management skills to a higher level. Learn the language of leaders, set worthwhile goals and motivate others. Understand the importance of feedback and develop the continuous improvement formula. Learn how to make decisions, handle conflict situations, improve your delegation and negotiation skills.
Leadership Management Skills Training (5 Days) - Course Overview
This is a brief overview of the content covered in the course.
For a more in-depth course outline click:
All effective leader-managers need to develop the following management competencies.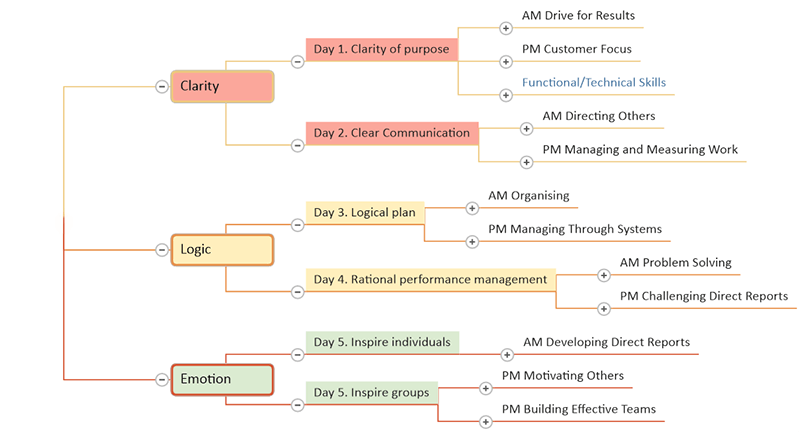 Customer Focus
Dedicated to meeting the expectations and requirements of internal/external customers; delivers on promises; acts with customers in mind; maintains effective customer relationships
Functional/Technical Skills
Has the functional/technical knowledge and skills to perform the role at a high level
Organising
Can marshal resources to get things done; can orchestrate multiple activities at once to successfully achieve objectives
Managing and Measuring Work
Clearly assigns responsibility for projects/activities and decisions; sets clear objectives and measures
Managing Through Systems
Can effectively design a variety of processes/practices/procedures which allow managing from a distance; complies fully with existing systems; can impact people and results remotely
Problem Solving
Uses logic and proven methodology to solve difficult problems with effective solutions; can see hidden problems; looks beyond the obvious and doesn't stop at first answers
Building Effective Teams
Blends people into successful functional/cross functional teams; creates strong team spirit and common objectives; develops clear roles/responsibilities; fosters open dialogue; defines success in terms of the whole team
Developing Direct Reports
Provides challenging objectives; holds regular development discussions; constructs and executes comprehensive development plans for individuals and teams; is a people builder
Motivating Others
Creates a climate in which people want to do their best; can motivate many kinds of direct reports and team or project members; can assess each person's hot button and use it to get the best out of him/her; empowers and involves; is someone people like working for and with
Directing Others
Establishes clear direction; sets stretching objectives; plans and organises well; maintains dialogue with others on work and results; brings out the best in people; is a clear communicator
Challenging Direct Reports
Deals with problem direct reports firmly and in a timely manner; doesn't allow problems to fester; regularly reviews performance and holds timely discussions; deals effectively with troublemakers
Drive for Results
Can be counted on to achieve or exceed KPIs/objectives; consistently a top performer; steadfastly pushes self and others
The course had a refreshingly different approach to other similar corporate coaching. Good pace and not dull. The trainer's presentation was fast paced but this went with the subject matter. A very good trainer with lots of interaction between trainer and group.
Customer Reviews
In-House Training Course Pricing and Proposal
This course is available from just £1,950 +VAT per day as a bespoke in-house group training course in the UK and worldwide.
It has been designed to provide a similar experience to our open courses, however we can tailor the content to fit your specific needs. In-House Group training costs from just £1,950 +VAT per day (international training price varies). Plus, hotel accommodation for trainer if necessary. (Premier Inn type: not the Hilton!)
This price includes:
Quality training delivered by an experienced trainer
Full days training
Full colour course handbook
Preparation work
Travel costs and time
Written action plan to take away
Access to our post course portal
Access to our on-line leadership and management decision matrix templates and tools
Plus three months FREE telephone coaching to answer any on-going questions
In-House Proposal Document
Download the in-house training proposal document
Contact Us Today
Please call us on +44 (0)20 3856 3037 to discuss your requirements for the in-house training course.
If you want to know more about any other Management Training Courses, or their suitability for you or a colleague, call us on +44 (0)20 3856 3037.
"Thanks Chris, you changed my life!" Honestly, I thought I knew most of it already, but I've learned a lot more. The trainer's presentation was very good, good communication (physical and verbal) and always looking at everyone which is important!
Customer Reviews