Dubai Leadership and Management Training Course
- Two Day
Learn practical tools that you can use in real-life situations.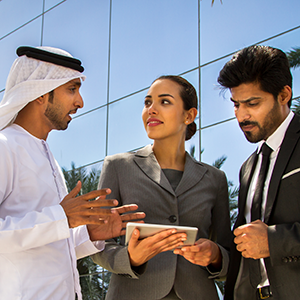 Inspire others to give you their best performance
Develop a Goal Focus in the team
Communicate your message more effectively
Make the right decision, quicker
More effectively handle conflicting colleagues
Develop more self-control, self-confidence and self-motivation
Create a highly adaptive, progressive company culture
Learn proven techniques from expert trainers
Learn in a friendly and relaxed atmosphere with people who are facing similar situations as you.
Excellent training course. I feel very secure (and excited) to start using certain models in my practice, including the priority decision matrix and the wrong box/right box method. The trainer was equally excellent. By using 'real life' examples he helped me contextualise the models. As well as giving me the confidence to start better prioritising my work and others in my team.
Customer Reviews
Make an Enquiry
X
If you feel you would like to attend but cannot yet commit to a secured booking, you can express your interest here.
Email this page to your Manager
X
If you are reading this page with the intention of attending the course, then you may need to 'put forward a case' to a manager who makes the final decision.
So, you may find it beneficial to give your manager this webpage, which will give all the information needed to make the right decision.
To do this, please enter the manager's email address below and.. take me to your leader!



* Just so you know, we'll add your details to our records.
Dubai Leadership and Management Training
This powerful 2-day Dubai leadership and management training course contains brand new methods that you have never seen before. This course is designed to give you special methods to enable you to get the best from yourself and the rest of the team.
Available as an In-House Course
Day One - Dubai Leadership and Management Training - Course Overview
This is a brief overview of the content covered in Day One.
For a more in-depth course outline click:
Morning -
How can you get the best performance from yourself and others?
Learn and apply the six key leadership-management skills.
How to set and communicate a clear goal.
The proper use of language; be clear, persuasive and positive.
Distinguish between the CRITIC and the CYNIC
Be ready to define the meaning of your most important ideas
Afternoon - Conflict and Performance Management
Properly handle conflict situations
Objective language
Always prepare your message
Distinguish between Reasons and excuses
When to compromise and when to stand firm
Praise and appreciation
Day Two - Dubai Leadership and Management Training - Course Overview
This is a brief overview of the content covered in Day Two.
For a more in-depth course outline click:
Morning -
Time management, planning and prioritisation
All tasks are measured against their Value and Deadline pressure
Distinguish between "busy work" and "productive work"
Prioritise work according to its value
Handling distractions and other time wasters
Delegate the right tasks to the right person
The 80/20 principle and its application to time management
How to manage incoming emails
Afternoon - Emotional Management
Positive mental attitude. How positive attitudes affect bottom line
Conversation control
Learn the 5 part EDISON success formula: Purpose-plan-action-feedback-change
Understand how to use setbacks to inform your next improvement
Turning negative situations into positive triumphs
Action plan, final summary close
I found this course to be excellent and so beneficial to my job. The trainer was very knowledgeable and engaging. This was one of the best courses I have ever attended!
Customer Reviews
In-House Training Course Pricing and Proposal
This course is available from just £1,950 +VAT per day as a bespoke in-house group training course in the UK and worldwide.
It has been designed to provide a similar experience to our open courses, however we can tailor the content to fit your specific needs. In-House Group training costs from just £1,950 +VAT per day (international training price varies). Plus, hotel accommodation for trainer if necessary. (Premier Inn type: not the Hilton!)
This price includes:
Quality training delivered by an experienced trainer
Full days training
Full colour course handbook
Preparation work
Travel costs and time
Written action plan to take away
Access to our post course portal
Access to our on-line leadership and management decision matrix templates and tools
Plus three months FREE telephone coaching to answer any on-going questions
Contact Us Today
Please call us on +44 (0)20 3856 3037 to discuss your requirements for the in-house training course.
If you want to know more about any other Management Training Courses, or their suitability for you or a colleague, call us on +44 (0)20 3856 3037.
Really beneficial quick and simple methods to keep conflict-based conversations on tack. Helpful when trying to keep things factual and not getting emotional. Easy to remember.
Customer Reviews