Live Online Positive Mental Attitude Training Webinar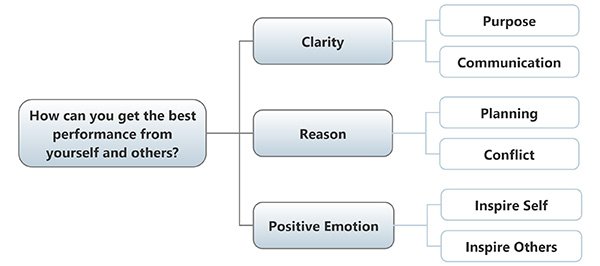 This unique online course is a game changer. It helps everyone, individuals, teams and organisations, to transform their results, by understanding that peoples' results have their origins in states of mind.
Current results are caused by recent actions; and recent actions are caused by people's mindset. If the quality of thinking is poor, then the results will be equally poor. If the quality of thinking is good, the results will reflect the clarity, accuracy and positivity of the thinking that created them.
This training is based upon creating the correct mindset, based on three major concepts: clarity, rationality and positivity. The course objective is to clarify thinking, make it systematic and well organised and to ensure a sustainable positive mental state.
The next live online training session starts in: ➔ Register Now
Customer Reviews
I was very impressed with how the technology worked. The ability to see Chris whilst he was presenting and the interactive drawings were really engaging, particularly compared to the share-screen PowerPoint presentations just with someone talking over them that I have experienced in the past.
Oliver Crampton (via Zoom)
DB Wood
The training course content was superbly structured with excellent notes. Each element was clearly presented and discussed, allowing opportunity to reflect and plan on how to integrate into our professional and personal lives. Gezz was amazing a... [Read More] Nick Radley
Private
Course Overview - Online Positive Mental Attitude Training
This course is delivered over two consecutive days via either Zoom or Microsoft Teams. The sessions start at 9am, with breaks at 11am, 1pm and 3pm. We finish at 4.30pm.
Everyone knows that they are supposed to have a positive attitude, but most people are confused about what that is, in terms of thoughts, communication, feelings, behaviours and results. To be successful, we need to develop an attitude that is clear, rational and positive.
This live, online course teaches a step-by-step guide to achieving better results.
Day one morning: We discuss the need to develop a goal-focused mentality and how we should add value to others. Our language must be clear and distinct, not ambiguous, or vague. We learn how to find solutions to problems, not blame.
Day one afternoon: We show you the importance of making positive suggestions, not negative. We show you how to handle conflict reasonably, not emotionally. We teach you when to compromise and when to stand firm. We discuss the need to give praise and appreciation, whenever it is owed.
Day two morning: We teach you how to plan and prioritise your time and effort, creating energy. We discuss the reasoning behind being optimistic, never pessimistic. Showing you how to concentrate on goals, not fears. You will learn how to quickly move on from upsets and anger.
Day two afternoon: By assuming that we can always improve upon the current situation, we never feel helpless. We show you how to create confidence in ourselves, eliminating morbid self-doubt. We discuss how to create optimism and act as a source of strength to others.
Through the information you learn on this course, you will gain the benefits of a productive mindset and positive mental attitude, allowing you to live in a state of positive, rational and clear thought.
If you would like to improve your confidence and mental attitude, please enrol here.
Learning Outcomes:
How to Create and sustain a positive mental attitude especially during tough times
Positive attitude starts with setting ambitious, worthwhile goals
Operate according to your plan, not your mood: Mind over mood
How to easily handle negative situations in positive ways
Manage the content of your mind and your conversation
Develop more self-control, self-discipline and self-confidence
Use your new skills to help and inspire others
Details and Pricing - Live Online Positive Mental Attitude Training Webinar
The Positive Mental Attitude open training course costs only £700 +VAT per delegate.
For this price we provide:
Two full days of quality training via Zoom or Microsoft Teams
12 additional 2-3 via post-course online independent learning
Interactive, digital full-colour course handbook, with written action plan
Training certificate
Access to additional free training material after the course
3 months free telephone coaching: Whilst you are implementing what you have learned, if you need to, you can contact us for support and guidance
Register Now
Ready to join? You can register to attend this course online today.
If you want to know more about this course, or any other Management Training Courses, or their suitability for you or a colleague, call us on +44 (0)20 3856 3037 or make an enquiry online.
Register for an Online Training Session
We offer online training webinars via Zoom and Microsoft Teams, please choose one of the sessions below to start your registration process:
Live Online Dates are currently available with 35% off.
2 full days training (9am - 4.30pm) - only £455+VAT per delegate
(normal price: £700+VAT)

Online bookings, use code WEB35 at stage three.
Date
Platform
Cost
Availability

August

26 - 27 August 2020
Online via Teams

£700 +VAT

September

9 - 10 September 2020
Online via Zoom

£700 +VAT
Online Positive Mental Attitude Training FAQs
How do I join a Corporate Coach Group online training session?
Our online training sessions are run either through Zoom or Microsoft Teams.
Both are free-to-use products that work on any device (Android/iPhone/iPad/PC/Laptop).
You will be able to see your trainer, live, as they talk through the training material. The trainer will use a virtual whiteboard to provide engaging and useful material.
Raise your 'virtual hand' to ask a question at any time, live!
Is this course offered face-to-face?
Do you have more details about the content covered in the training?
The live online learning course is our excellent open course, delivered in an online format.
Read all of the course details here.
Is this course offered in-house?
Yes. If you want us present this course in-house, then we are happy to come to your venue.
We can tailor the course content to meet the specific needs of your team. Click here for details.
What is the course training method? Is it interactive?
Yes. We have designed the training style to be highly interactive. Throughout the day, we vary the training style.
Sometimes you are working independently, (for example, when are thinking about your own performance), then later you will work with another delegate in pairs, (or groups of three).
Then later we will work as a whole class.
There is always plenty of interaction.
There is never any "Death by PowerPoint". So, you won't feel bored, you will feel motivated. From beginning to end, you will be fully engaged and involved.
Our delegates tell us that "the time flew-by", which we take to be a good sign.
You will find the course is well designed, easy to understand and apply in practice.
We have made this course very practical, beneficial and crammed with useful knowledge. You can be assured that you will find this course, interesting, well structured, practical and fun.
What kinds of people attend this Positive Mental Attitude course?
People who attend this training usually come from organisations that are experiencing a lot of change.
The other delegates who come to this training, all need to know how to get the best performance from themselves and others.
Although the delegates who attend the course are all different, they all share a common goal, to learn and apply new skills.
Related Articles from our Positive Thinking Blog
What is a Positive Mental Attitude?
21 July 2020
Positive mental attitude is a philosophy which advocates that by having an optimistic disposition in all areas of your life, it will create less stress and attract more positive outcomes. Read our tips for cultivating a positive mindset.
Continue Reading >