Online Professional Development Training Course - Two Day
Learn practical tools that you can use in real-life situations.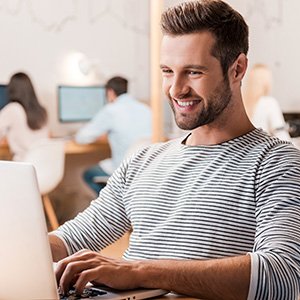 Get the best performance from yourself and others
Set and achieve your goals
Communicate more effectively
Improve your time management
Handle difficult people and conflict situations
Motivate yourself and gain more confidence
Inspire others with a positive mental attitude
Learn in a friendly and relaxed atmosphere with people who are facing similar situations as you.
Excellent Online Training Course
This course will show you exactly how to get the best performance from yourself and others.
Now you can see our most popular London training course, wherever you are in the world.
This online course will give you the same great learning experience; as if you were coming to the live course, in London.
You will get the exact same training; you'll do the same practical exercises and have the identical training manual, as if you were really at the live course, in London.
Buy Access Now
We provide this course as an online streaming video service with an approximate runtime of 12 hours, designed to be run over two consecutive days - 9am - 4.30pm (including breaks).
Buy access to this online course for 3 months. The 3 months access begins when you access the course for the first time - buy now, learn later!
This price includes a PDF copy of a comprehensive 96-page training manual, which you would need to print out before taking the course.
Alternatively, we can provide the full colour course notes at an additional cost of £30 per copy.
The course content was very informative, made you think about how you may change the way you work and approach things in the future. I can see benefits from taking this course. The trainer's presentation was very good, thorough, plenty of content, well explained.
Customer Reviews
Professional Development Online Training Course
Day One - Morning
How can you get the best performance from yourself and others?
Develop the six major key skills
Develop goal focus
Use only accurate language
Learn how to define your most important ideas
Learn the difference between the critic and the cynic
Day One - Afternoon
How to manage difficult people
Use objective language
Always prepare your message
Distinguish between reasons and excuses
Know when to compromise and when not to
Make an action plan
Day Two - Morning
How to be a good time manager
Use "deadline pressure" and "value" as key indicators
Notice the difference between being "busy" and being "productive"
Always prioritise your work
Learn how to handle distractions
Learn proper delegation and prioritisation
Pareto 80/20 principle and its application
Day Two - Afternoon
A Positive attitude. How your attitude affects your results
The Thomas EDISON success formula
The opposite; The Failure Formula
The value of "critical feedback" and failure
Turning negative situations into positive situations
Action plan, final summary close.
I had a wonderful experience with such a learning oriented course. It was really beneficial for me in terms of managing conflict, directing and delegating the tasks, setting about the priority of tasks effectively. Gezz is unique trainer I must say, equipped with wonderful expertise and practical examples both for professional and personal life`s relevancy.
Customer Reviews
Online Professional Development Training - Day One - AM
Introductions
How can you get the best performance from yourself and others?
Answer: You could develop these six key abilities; meaning the ability to:
Set and achieve valuable goals
Communicate with more clarity
Manage your time. Properly plan, prioritise and prepare your work
Manage conflict. How to properly manage difficult personalities
Motivate and inspire yourself so that you feel stronger and more confident even during tough times
Learn to motivate and inspire other people
Now let us take each of these leadership abilities in turn:
The first leadership quality is to become; a goal focused individual
Goal focus; the ability to concentrate on what you want.
Perfect the ability to set and communicate your goals.
Decide how you want to be perceived by others and then act accordingly
Notes and then practice
The second quality of leadership is to become a terrific communicator
To communicate with more clarity and accuracy
Leadership requires the proper use of language
You need clear definitions of all your most important terms
Vagueness is the act of having multiple meanings to your messages
Vagueness is dangerous
Speak about what you can do, not what you cannot, or will not do
Develop the art of asking the right questions
The use and abuse of humour in the workplace
Practical exercises for the delegates to learn by doing
Online Professional Development Training - Day One - PM
Conflict Management Section
Conflict is inevitable because other people don't share your views.
How you handle conflict is an important question.
You need to know the following information
How to use reason and logic to resolve conflict; not anger or avoidance
Know when to compromise with others and when to stand firm
Proper conflict management requires that you:-
Always protect the other persons "self-concept"
Tell them precisely what is "wrong" and do it in non-emotional terms
Suggest a definite way out of the conflict situation
Be objective and specific, not angry or upset.
Distinguish between reasons and excuses for not doing something and have a different policy for each
Know how to use your body language and voice tones
Top tips for constructive conflict management
Professional Development Training Summary
Practical exercises for the delegates to learn by
This training course was rich in information and well put together. Good course manual – very useful. The trainer's presentation was skilful (good alternation of presentation with activities). I recommend it to all those who wish to improve their chances of professional and personal success.
Customer Reviews
Online Professional Development Training - Day Two - AM
Time Management Section
Ask yourself: What is the best use of my time, right now?
Use the two principles of "deadline pressure" and "value" as key indicators.
Q1 Crisis
Q2 Productive work
Q3 Busy work
Q4 Fruitless
Distinguish between "busy work" and "being productive"
Handling the three time wasters
Other people
Your own bad habits
Poor office systems
Delegation: the act of entrusting a task to another
There are five good reasons to delegate
There are five bad reasons to delegate
How to delegate properly, using SMART
Why some people who should delegate - don't delegate
Prioritisation: the act of putting tasks into the correct order
Manage your priorities by means of a decision matrix.
Answer the question: What is the most valuable use of my time right now?
Manage interruptions by means of the 80/20 rule Pareto principle.
The Pareto time management principle states that 80% of the value comes from only 20% of the causes
80% of the value of the interruption will be in only 20% of what they say
Manage the interruption using the "Pareto question"
Exercises for the delegates to learn new skills
Online Professional Development Training - Day Two - PM
Positive attitude and how it affects your final results
Becoming a good leader and manger requires that you are able to direct the focus of your mind, so that you can create the optimum emotional responses appropriate to the circumstance that face you.
Emotional management requires also that you
Don't succumb to undue pessimism or fear
Don't overdose on fretting over things over which you have no control
Fix your mind onto the present moment and onto your goals - look forwards
The self-fulfilling prophecy
How your inner thoughts will affect your outer circumstances
How to sustain a positive attitude
Control your mind
Control your conversation
Control their conversation
How to create more energy
Energy is the capacity to do your work
Some people don't have sufficient energy.
How to generate more energy.
The Thomas EDISON success formula
All successful action can be described by the following five step process:
Purpose: is the goal you want to achieve
Plan: is how you intend to achieve it
Action: is the implementation of the plan
Feedback: is the results of the actions you taken
Change: is the adjustment in the plans, based on the feedback you are getting
The difference between negative feedback and an insult.
Recognise that Negative feedback is part of the success formula.
Negative feedback should NOT be destructive.
Negative feedback should always be constructive
Here are the differences between:
Negative feedback.
Derogatory insult.
In order to inspire others, use the five part success formula.
Know your outcome
Formulate your best plan in writing
Take decisive action
Gather and evaluate the feedback. Both positive and negative
Make progress by continually adapting and evolving
The failure formula
The failure is the opposite of the success formula:
No goals (drifting)
No plan (wing it)
No action (procrastination or laziness)
Ignoring feedback
Refusal to change (stubbornness)
Use the six success formula questions
Here are the success formula questions:
What are your SMART goals for this coming week, (month, year….)?
Where are your "detailed, written plans of action" that describe exactly how you intend to achieve your goals?
What have you been doing lately, in terms of achieving your SMART goals and enacting your plans?
What has been going well for you, lately?
What has not been going so well for you, lately?
In respect of what has not been going well, tell me, what specifically, do you think we need to omit, alter, adapt or change, in our current plan, in order to get things back on track? Please give me your best ideas!
Practical exercises for the delegates to learn skills
Professional Development Training - Final Summary
How will this management training help you to get the best from yourself and others?
Actions / Close
I found the course very useful and relevant. Techniques are really interesting, some of which I used but didn't realise. Lots more will be very useful moving forward. Covering lots in the two days. Great that it is useful for both work and home life. Liked the specific examples that we could relate to. The trainer's presentation was very inspirational, enthusiastic, lots of energy, passionate.
Customer Reviews
The Training Method
The training method follows this pattern - the training is very interactive and interesting:
The trainer gives a clear explanation of the point in question with specific examples.
Then, the delegates practice by doing an exercise with each other.
All points are supported with full written notes to take away.
Delegates are asked to write down an associated action, for each point made.
(At the end of the day, we have about twenty such actions, from which the delegates choose six which are the most personally meaningful).
Online Training Course Summary
Here you have a two day, professional leadership management training program that your team can work with, at your own location, and at your own time.
You are now able to enjoy the same content and style of the original, London based training, but at a fraction of the price.And you can do the training at a time and place to suit you.
There are many people who would like to attend our courses in London, but can't, because they are too distant, or they cannot spare the time to travel.
Therefore, we have created a unique version of the course that contains all the same content as the original, and we have added special explanatory graphics.
Our selected audience will ask all the same questions that will occur to you as you listen to the material; so the course will feel real.
Our intention is that you have the same experience on line, as you would have doing the live course, in London, but at a fraction of the cost; and in a manner which you will find very accessible.