Minute Writing Skills Training Course - One Day
Learn practical tools that you can use in real-life situations.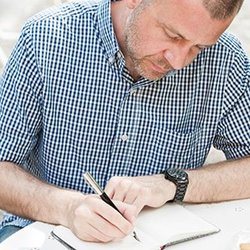 Gain the benefits of taking excellent written minutes
Avoid the perils of failing to take good minutes accurately
Improve your listening, memory and note-taking skills
In the meeting, use Content-Mapping to make your initial notes
Avoid being overwhelmed by the sheer pace of the conversation
Handle challenging delegates: help them to help you take good notes
From the initial notes, produce the perfect finished minutes
Learn in a friendly and relaxed atmosphere with people who are facing similar situations as you.
About this Minute Writing Skills Training Course
Minutes are a written document that accurately and objectively records the essence of a meeting.
Minute writing is an important but difficult skill.
The skills of minute writing fall under three main headings:
Making good initial notes, in the meeting, when everyone may be talking at once.
Converting the initial notes into a finished document that is brief, accurate and precise.
Before the next meeting, distributing the minutes to all the relevant people.
Of the three skills listed above, it is the first that is the most difficult.
You need to perfect the art of making good initial notes, in the meeting:
If you can make good initial notes, then everything else follows quickly from that.
If your initial notes are wrong: then everything else will be equally bad.
This course is designed to help you take accurate notes so that you can create accurate minutes.
The course has been a true eye-opener, especially how ones own experiences and actions can influence others within the work place, but also in everyday life experiences. A very well presented and factual presentation. The trainer had great interaction and engagement with the delegates. Excellent. Thank you!
Customer Reviews
Minute Writing Skills Training - One Day Course Overview
Day One - Morning
The importance of taking good minutes
The difference between minutes and transcription
Two listening methods
Two listening skills
Four minute taking methods
Day One - Afternoon
Practical exercise in minute writing
Managing the delegates
Making the chairperson your ally
The importance of the agenda
Writing the finished minutes
Available Dates and Locations
In-House Course Available Call us on +44 (0)20 3856 3037 to discuss your requirements or
Please note all our training courses include optional three months FREE telephone coaching to answer any on-going questions.
Course Timings: Start 09:00 - Finish 16:30. Lunch at 13:00, Tea Breaks at 11:00 and 15:00.
6 trainer-led hours, additional 2-3 via post-course portal independent learning
Our Open Training Courses run in: London, Manchester, Birmingham, Bristol, Maidstone, Scotland, Reading, Dublin, Ireland, Leeds, Luton, Bedfordshire, Cambridge, Milton Keynes, Gloucestershire.
In-house courses can be run in the UK or worldwide to suit you.
Training course content: Was valuable information and I have learnt how to act/go about difficult situations and perform at my best (professionally). Trainer's presentation: Very engaging, clear and direct. Thank you!
Customer Reviews
Minute Writing Skills Training Course Content
Minute Writing Skills Training - Day One - AM
Why it is important to take good minutes
The meeting happened at a particular place and time. After the meeting, the minutes contain the meaning of the meeting.
It is the minutes that represent the meeting.
The minute writer has the responsibility to record the meaning of the meeting accurately.
Note the significant difference between minutes and a transcription.
Note the significant difference between minutes and a transcription.
A transcription is a complete record, and it is not refined
Minutes are not a complete record, but they are refined
It is making good initial notes, in the meeting, that is the most difficult.
To do that, you need to develop your listening skills.
Two listening methods: Pan sifter v sponge
The pan-sifter: is a selective listener. This is the right way.
The sponge: is NOT selective and tries to record everything. This is the wrong way.
Two Listening Skills
1. Develop the ability to discern the others 'important point.'
How to pick out the important from the trivial
How to pick out the relevant from the irrelevant.
2. Distinguishing between:
Conclusions – What they think- Record this
Reasons – Why they think it. - Record this too
Rubbish- Everything that has no relevance or is trivial. - Don't record this
Four minute taking methods
Content Mapping
Structured Notes
Table Plan
Verbatim Notes
How to take the notes in the meeting
Notes on note taking technique
Exercise in note taking
The course content was strong, informative and understandable. Easy to take key points and transfer into working life. Makes you think of how to work more effectively and productively. The trainer's presentation was clear, captivating and interesting. He was very passionate and focused on sharing knowledge.
Customer Reviews
Minute Writing Skills Training - Day One - PM
A practical exercise designed to put to the test, the skills covered so far
Managing the delegates.
Use the question 'How would you like me to minute that?'
Have a "Pre-meeting meeting" with the chairperson
The meeting delegates can help you or hinder you.
Train the chairperson to be your ally
The importance of the agenda
The environment:
Set the room up to your advantage.
Name placements
Air
Light
Water
Freedom from distractions
Use the ABC principle:
Accurate, Brief and Clear
Preparation is essential:
Get there early
Get your things organised and in good order
Get your mind into the right mood
Writing the finished minutes
Use the ABC principle: Accurate, Brief and Clear
Some basics of grammar
A sentence is a statement that communicates a complete thought.
All sentences need at least a subject and a verb.
Use specific subject nouns
Use specific verbs
Avoid ambiguity
Decide: active or passive
Practice exercises
Three ways to write the final notes
Transcript: verbatim
Main points
Action Summary
Last big training exercise
Learning notes from the practice
Summary and action plan
I have thoroughly enjoyed the past two days. I feel the course had great content and was relatable from any work place. I'm hoping to use the information I have learnt to make myself a better manager. Chris had a great presentation, very consistent with the use of mind mapping on computer and paper.
Customer Reviews
The Course Training Method
The training method follows this general pattern - the training is very interactive and interesting:
The trainer gives a clear explanation of the point in question with specific examples.
Then, the delegates practice by doing an exercise with each other.
The delegates practice by doing an exercise with the trainer.
All points are supported with full written notes to take away.
Delegates are asked to write down an associated action, for each point made.
(At the end of the day, we have about twenty such actions, from which the delegates choose six which are the most personally meaningful).
Note: we do not believe in placing people in any situation of embarrassment by demanding that they 'perform' in front of the whole group. So you can relax: come on this course and be at ease; ready to learn new skills!
Express an Interest
If you feel you would like to attend but cannot yet commit to a secured booking, you can express your interest here.
In-House Training Course Pricing and Proposal
This course is also available from just £1,950 +VAT per day as a bespoke in-house group training course in the UK and worldwide.
It has been designed to provide a similar experience to our open courses, however we can tailor the content to fit your specific needs. In-House Group training costs from just £1,950 +VAT per day for up to 20 delegates (international training price varies). Plus, hotel accommodation for trainer if necessary. (Premier Inn type: not the Hilton!)
This price includes:
Quality training delivered by an experienced trainer
Full colour course handbook
Personal written action plans
Access to additional free training material after the course
Three months free telephone coaching
In-House Proposal Document
Download the in-house training proposal document
Contact Us Today
Please call us on +44 (0)20 3856 3037 to discuss your requirements for the in-house training course.
If you want to know more about any other Management Training Courses, or their suitability for you or a colleague, call us on +44 (0)20 3856 3037.
Email your Manager
If you are reading this page with the intention of attending the course, then you may need to 'put forward a case' to a manager who makes the final decision.
So, you may find it beneficial to give your manager this document, which will give all the information needed to make the right decision.
To do this, please enter the manager's email address below and.. take me to your leader!



* Just so you know, we'll add your details to our records.
Other Popular Courses
You may be interested in one of our other popular courses: