Staff Appraisal Training Course -One Day
Learn practical tools that you can use in real-life situations.
Get the best possible results from staff appraisal meetings
Avoid the perils of a poorly prepared staff appraisals
Use a Proven Success Formula for super-effective staff appraisals
Help staff members to identify their strength and their developmental opportunities
Help staff to set specific developmental goals for the future
Inspire the staff member to make progressive and adaptive changes
Keep good notes and follow up
Learn in a friendly and relaxed atmosphere with people who are facing similar situations as you.
About this Staff Appraisal Training Course
Staff appraisals are your opportunity to give and receive valuable feedback from your staff; to agree specific goals for the staff member's future development; and to explore any potential progressive improvements in the organisation and in the individual staff member.
Staff appraisals are also a specialised form of meeting. In order to be effective; the appraisal meeting needs to be well designed, Staff appraisals should follow a format that will guarantee its successful outcome. Staff appraisals should be a lot more than "a little chat".
Staff appraisals are also a specialised form of communication, and therefore they need you to have a special set of communication skills. You need to have developed the correct communication skills.
Course Objectives
This course will help you to:
Provide your delegates with a success formula for their staff appraisal interviews
Help them to give and to get valuable feedback from the person being appraised
Identify specific areas of potential improvement for the individual and the organisation
Set clear and specific goals that will actualise the potential and make it a reality
Inspire the staff to make progressive improvements in their performance
Organise an environment that is conducive to excellent results
Keep accurate notes and written records and to follow up on the agreed actions
The course content was excellent and extensive, but well managed into easily digestible sections. Extremely practical and informative. The trainer's presentation was first class. His style and subject knowledge were brilliant.
Customer Reviews
Staff Appraisal Training - One Day Course Overview
Day One - Morning
The purpose of a staff appraisal interview
The continuous improvement cycle
Giving positive feedback
Giving negative feedback
Receiving negative feedback
Identifying and agreeing areas for improvement and change
Setting specific goals
Formulating detailed plans
Day One - Afternoon
Communication skills
Asking the right questions
Body language and voice tones
Taking good notes
Setting up the environment
Role play practice
Final summary
Action planning
Available Dates and Locations
In-House Course Available Call us on +44 (0)20 3856 3037 to discuss your requirements or
Please note all our training courses include optional three months FREE telephone coaching to answer any on-going questions.
Course Timings: Start 09:00 - Finish 16:30. Lunch at 13:00, Tea Breaks at 11:00 and 15:00.
6 trainer-led hours, additional 2-3 via post-course portal independent learning
Our Open Training Courses run in: London, Manchester, Birmingham, Bristol, Maidstone, Scotland, Reading, Dublin, Ireland, Leeds, Luton, Bedfordshire, Cambridge, Milton Keynes, Gloucestershire.
In-house courses can be run in the UK or worldwide to suit you.
Really useful and practical, drawing on plenty of real world examples. Provided plenty of guidance for dealing with a range of situations. Useful to hear of examples from other industrial sectors. Will prove very useful for organising my time and priorities. Trainer was very clear – good pace. Never felt rushed or too slow. One of the best courses I've been on.
Customer Reviews
Staff Appraisal Training Course Content
Staff Appraisal Training - Day One - AM
Introductions:
Who are you and what do you do?
Why are you here? What do you want to gain from this training?
What is the purpose of a staff appraisal interview?
The purpose of a staff appraisal interview is to get the best performance from each member of staff and therefore, from the whole organisation.
That purpose breaks into subset goals:
Staff appraisals interviews are your opportunity to:
Give and receive valuable feedback from your staff.
Agree specific goals for the staff member's future development.
Explore any potential improvements in the work practices of the organisation.
Explore any potential improvements in the work practices of the individual staff member.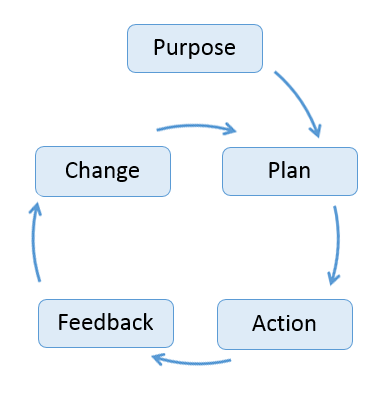 A staff appraisal is the practical application of the continuous improvement cycle.
The continuous improvement cycle is an important concept that describes all successful, goal directed action.
You should keep the success cycle in mind as you progress through the staff appraisal interview.
The Purpose: is the goal you want to achieve.
The plan: is how you intend to achieve the goal.
The action: is the priority activity that you need to take.
The feedback: is information about the results that your current actions are producing. Feedback comes in two forms: Positive feedback and negative feedback.
Change is the adaptive changes that need to be made to the current plan of action to better achieve the goal or purpose.
Make the continuous improvement cycle the foundation of your staff appraisal interview.
On a staff appraisal interview we don't start with setting goals - We start with feedback.
Step one: We start the interview with Positive feedback.
Give and take feedback from the member of staff.
What is going well?
Step two: Negative feedback:
What is not going so well?
Give and take negative feedback from the member of staff
Step three. Changes that could be made.
Ask what adaptive changes could to be made to improve on the current situation.
Step four. Set goals that translate the need to change into a specific goal. (See later notes on SMART targets)
Step five. Agree plans, and work out the details, (see later notes on smart target)
Step six: Agree actions and finish the interview.
Step seven: Write up your notes
The course contained some very interesting concepts, of which I can apply immediately to my role and that of my team. A lot of information in the two days so I will definitely review the handbook to ensure I put as much into practice as possible. Chris was extremely engaging and knowledgeable, his style and humour made the delivery interesting with some excellent examples of methods in practice.
Customer Reviews
Staff Appraisal Training - Day One - PM
Additional Notes on giving negative feedback in a positive way.
Negative feedback is, by definition, negative.
Negative feedback must be carefully worded so as NOT to be perceived as DESTRUCTIVE CRITICISM.
Notes and exercises on how to give constructive criticism.
More Notes and receiving negative criticism from the member of staff.
When receiving negative criticisms from the staff member about any aspect of work life, use the six-step formula.
Listen without interruption
Reflect and empathise
Analyse and check the facts
Answer: give your response
Confirm understanding of your response
Close and move the conversation onto the next phase.
Role play scenario.
Practice makes perfect.
Set Goals with the member of staff using the 8 Part SMART
Ask the eight part SMART questions and help the person to clarify their own developmental goals. Use the following formula for the questions.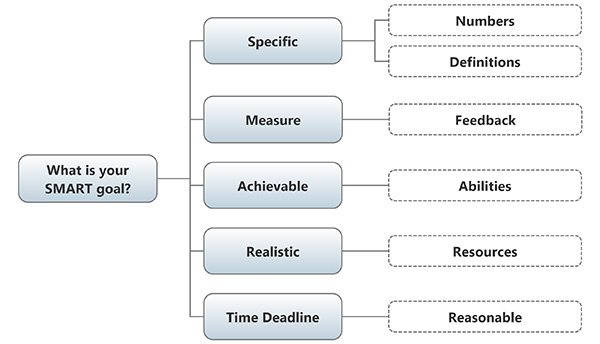 Role play scenario.
Practice makes perfect.
Extremely useful training for my own and team leaders usage. Was very inspired and motivated by Edison, felt that the success formula will be greatly used along with many other items. The trainer's presentation was very good. Clear, precise and full of information to ponder over and use.
Customer Reviews
The Course Training Method
The training method follows this general pattern - the training is very interactive and interesting:
The trainer gives a clear explanation of the point in question with specific examples.
Then, the delegates practice by doing an exercise with each other.
The delegates practice by doing an exercise with the trainer.
All points are supported with full written notes to take away.
Delegates are asked to write down an associated action, for each point made.
(At the end of the day, we have about twenty such actions, from which the delegates choose six which are the most personally meaningful).
Note: we do not believe in placing people in any situation of embarrassment by demanding that they 'perform' in front of the whole group. So you can relax: come on this course and be at ease; ready to learn new skills!
Express an Interest
If you feel you would like to attend but cannot yet commit to a secured booking, you can express your interest here.
In-House Training Course Pricing and Proposal
This course is available from just £1,950 +VAT per day as a bespoke in-house group training course in the UK and worldwide.
It has been designed to provide a similar experience to our open courses, however we can tailor the content to fit your specific needs. In-House Group training costs from just £1,950 +VAT per day for up to 20 delegates (international training price varies). Plus, hotel accommodation for trainer if necessary. (Premier Inn type: not the Hilton!)
This price includes:
Quality training delivered by an experienced trainer
Full colour course handbook
Personal written action plans
Access to additional free training material after the course
Three months free telephone coaching
Contact Us Today
Please call us on +44 (0)20 3856 3037 to discuss your requirements for the in-house training course.
If you want to know more about any other Management Training Courses, or their suitability for you or a colleague, call us on +44 (0)20 3856 3037.
Email your Manager
If you are reading this page with the intention of attending the course, then you may need to 'put forward a case' to a manager who makes the final decision.
So, you may find it beneficial to give your manager this document, which will give all the information needed to make the right decision.
To do this, please enter the manager's email address below and.. take me to your leader!



* Just so you know, we'll add your details to our records.
Other Popular Courses
You may be interested in one of our other popular courses: