Time Management Boils Down to Four Things
Time Management Boils Down to Four Things
Time management is easy if you improve the following four skills:
Concentrate on your goals.
Planning.
Prioritising.
Resisting distractions.
Let us say a few words on each.
Concentrate on your goals.
Your organisation exists to achieve goals.
So, every action you take should be connected to the achievement of those goals.
Ideally, you should take no actions that are not directly related to the achievement of the goal. Many people spend many hours doing things that don't relate to the achievement of their goals. As a result, they are busy all day but they don't make much progress.
Don't let that be you.
Ensure that you are the person who concentrates on the goal.
Planning.
Planning is the art of working things out, in advance. You plan the journey before you leave. You plan your questions before the interview.
Good time managers plan ahead.
Poor time managers don't plan ahead. They make it up as they go. They fly by the seat of their pants. They simply react to what is going on. As a result, they are bounced around by circumstances. They don't feel they are in control. They feel they are being controlled by events.
Good time managers are those People Who Plan. They do not make it up as they go along. They are prepped, prepared and ready.
Time managers live by the following credo: "I operate according to my plan, NOT my mood".
Prioritisation.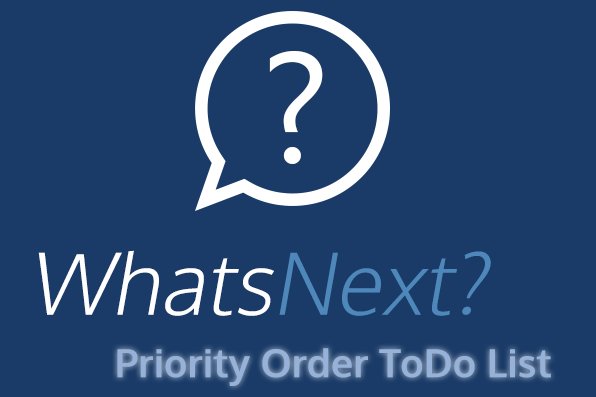 Prioritisation is the act of putting the items on the plan, into the proper running order. Not everything can be done simultaneously. Some things must be done first. Some things will therefore have to wait. Some things may not be done at all!
Prioritisation is the art of putting things into the correct order. We have developed a special method to help you prioritise your 'To Do List', into a 'Priority Action List'.
If you would like this very useful prioritisation tool to put on your mobile, take a look at our WhatsNext? Prioitisation App.
Resisting distractions.
In today's world, resisting distractions is very important. Everyone wants to distract you from what you are doing. Facebook. Twitter. Instagram. The office gossip. Conversations and background noise.
All these things conspire to take your mind off track.
Your task is to train your brain to be un-distract-able.
Keep your mind on the job at hand.
Time Management in a nutshell.
If you want to be a better time manager.
Concentrate on your goals.
Plan ahead.
Prioritise your tasks.
Resist distractions.
TIme Management Quiz
To find out your time management strengths and weaknesses, try our quiz:
Blog Email Subscription
Do you want to receive an email whenever we post a new blog?
The blogs contain article 5-10 minutes long - ideal for reading during your coffee break!
If you wish to sign up for this, please click here.
Further Reading in Time Management