How to Prioritise your Day
How to prioritise your day
In order to prioritise your work properly, judge every task against two criteria.
The value of the task. ( Low value - to high value)
The deadline pressure. ( Low deadline pressure - to high deadline pressure.)
Using these two criteria as key indicators, we can build the following grid.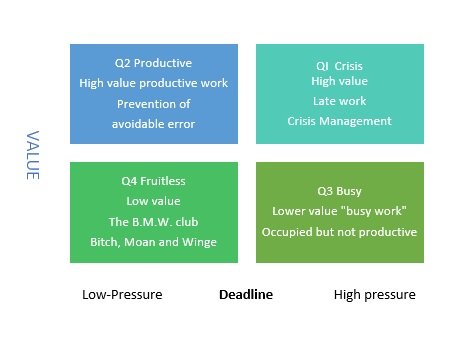 There are four types of activity:
Crisis activity: High value AND deadline driven.
Productive activity. High value BUT NOT deadline driven.
Busy work. Low value, late work.
Fruitless activity: Low value, not-late work.
Q1 crisis activity
Q1 activity denotes: Emergencies, breakdowns, failures, catastrophes, "All hands on-deck" situations. Obviously, Q1 crises take precedent over everything else.
Q2 productive denotes High value / deadline driven activity.
Please Note. The key quadrant is Quadrant 2.
You need to do as much quadrant two work as you possibly can.
Q2 Productive work is where you add the most value to your organisation; by preventing future Q1 crises.
Q2 work are activities that tend to start with the letter P and are sometimes called
The P-List activities.
Purposefulness.
Pleasing customers and clients
Profit generation.
Progressive action.
Planning: both strategic and tactical.
Preparation, and making ready.
Prevention of avoidable errors.
Practice to make perfect.
Performance management.
Personal initiative.
Protocols.
Problem solving.
Proactive.
Physical health.
Powerful psychology.
Political awareness.
Philosophy.
If you do sufficient quadrant two P list activities, then you will minimise the chances of Q1 crises.
You won't ever completely eliminate Q1 crises because
other people,
poor systems and
malevolent mother nature
will supply you with some unexpected crises.
But if you do your Q2 planning and prep, then you will be in good shape to handle the odd natural disaster, and...
If you do enough P list work, then at least YOU won't be the cause of any problems.
The danger zone is Q3.
Q3 refers to those tasks that keep you occupied, but keep you from being productive.
Q3 include things like...
Low value meetings.
Low value interruptions.
Low value distractions.
Low value conversations.
Other people's work.
Do you ever sit in low value meetings?
Do you ever have low value interruptions?
The most common time management mistake is to spend too much time in Q3 and not enough time in Q2.
Q4 fruitless.
The worst category is obviously, Q4.
Q4 refers to:
Too much gossip.
Too much Office politics
Complaining
Bitch Moan and Whinge.
Laziness.
Keep well away from Q4.
Do your tasks in the order show by the diagram.
First; Deal with any Q1 crisis: If the place is on fire, put out the fire.
Then immediately go to High value Q2 productive work. P list activity. Preventative / Profitable / Please your customers/ problem solving activity.
Then do your lower value busy work.
Then it will be time to go home and either rest or have some fun.
Please do use our FREE Prioritisation tool / app to help you to prioritise your tasks today.
Blogs by Email
Do you want to receive an email whenever we post a new blog? The blogs contain article 5-10 minutes long - ideal for reading during your coffee break!
Further Reading in Time Management